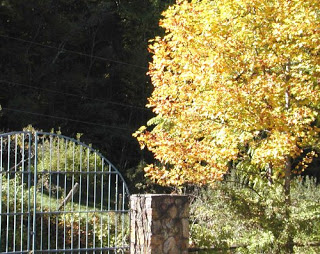 Fall color arrives at the Inn on Mill Creek
"Leaf Peeping Season" is gathering steam here at the Inn on Mill Creek. Our two-mile tree-lined drive through Pisgah National Forest is showing more and more color by the day and promises to be a spectacular drive over the next few weeks. Here's a shot of our fence line as you head toward Black Mountain: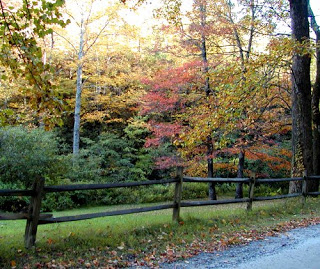 The burning bushes are brilliant red right now, as are the red maples. The yellow birches are really living up to their name this week, being one of the first to show gorgeous gold through the trees that remain unchanged to this point. Our black walnut tree along the road is also a beautiful shade of yellow.
This week, we took a short drive with the innpugs (Happy 4th birthday to Csaba and Bugsy!), past Andrews Geyser and a miniature horse farm to the Point Lookout Trail. We've got some really great photos of the Geyser that we'll post on Saturday. Heading through this scenic area along Mill Creek Road and Old Highway 70, we could clearly see the yellows, oranges and reds overtaking the peaks at higher elevations (4,500+ feet). It's only a matter of time before the sea of color sweeps down to our elevation at 2,300 feet.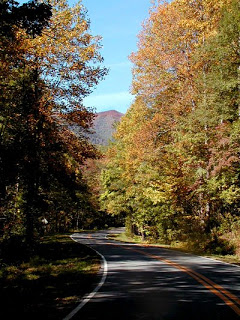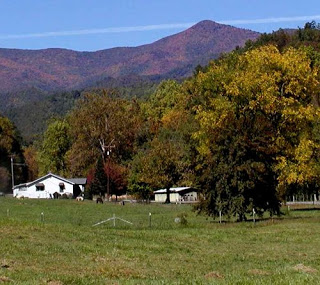 Green Knob along the Blue Ridge Parkway, visible from our orchard, appears to be no longer green and in fact, looks like it's now at peak, too: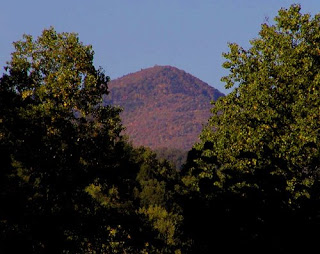 Will you be visiting our area over the next week? We highly recommend traveling south along the high peaks of the Blue Ridge Parkway, past Mt. Pisgah to Milepost 418.8, where you'll find Graveyard Fields (not a cemetary, but rather a fantastic display of fall foliage and three waterfalls). Be sure to take your camera for the hike along the Graveyard Fields Trail Loop.