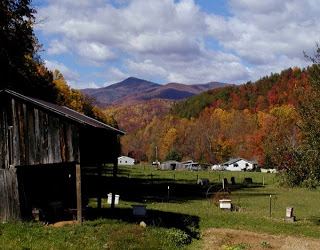 The Allison horse farm near the Inn on Mill Creek
We anticipate the fall color to stick around a few more days at our elevation (2,300 feet), although the amount of leaves on the ground is rapidly increasing, and the oranges are turning to bronze while the brick reds change to rusty hues. Here are a few photos taken a couple of days ago: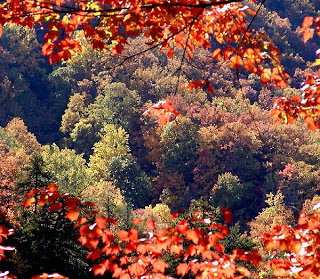 A pocket of trees framed in orange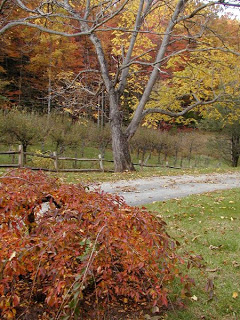 Our orchard with fall color in the background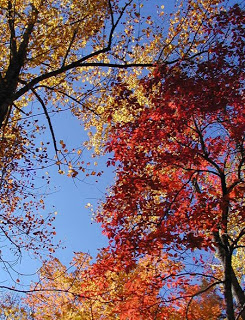 Still lots of reds
This week, we again took the innpugs on the Point Lookout Trail, a new Greenway biking/hiking/walking path located in close proximity to the Inn (5-10 minutes drive). The scene was simply magical.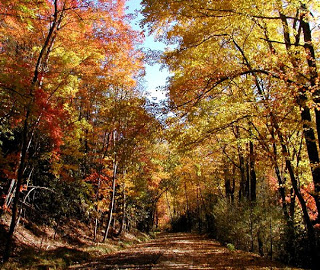 Color from the tops of the trees all the way to the ground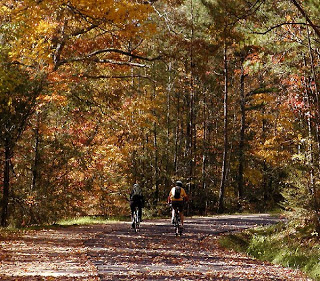 Bicyclists take advantage of the perfect weather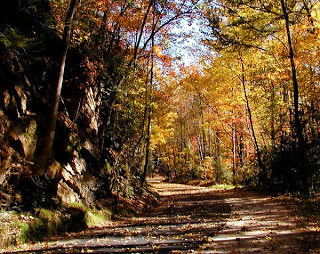 Lots of curves make you wonder what's around the bend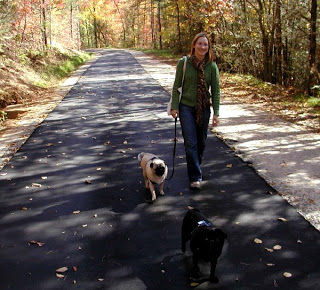 Csaba loves the new paved path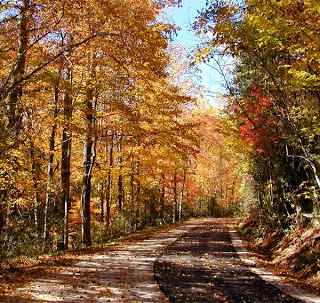 A golden section of the Trail
Coming to our neck of the woods this weekend or next week? A great place to go for the day is Chimney Rock Park, about a half hour south of the Inn on Mill Creek. Our friends at Chimney Rock share with us the following fall color update:
Chimney Rock and Hickory Nut Gorge are ablaze with color. The Park's colors should be at the prime this week and next with some color lasting through the Thanksgiving holiday. Chimney Rock is one of the best places to view fall color because every conceivable view is here. From high atop Chimney Rock, see the colors spread down the mountainsides to Lake Lure. For a more up-close and personal look at autumn's show, go for a hike along one of our trails. Plus, the Park's entrance road provides a nice look at the variety of trees showing off their "true colors."
We do keep a limited number of Chimney Rock tickets available right here at the Inn, so please let us know if you'd like to purchase tickets during your stay.