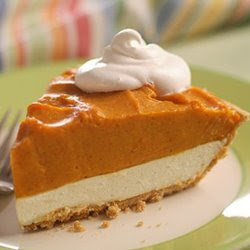 Image from Recipe Goldmine
You know how people greet each other just before Thanksgiving with "Have a Happy Turkey Day!" Well, we prefer "Have a Happy Pumpkin Pie Day!" because for us, Thanksgiving is all about the pumpkin pie.
Turkey's a good thing, sure, and you have to love all those sides…sweet potatoes, candied yams, cranberry sauce, cornbread, mashed potatoes, vegetables galore…but nothing caps off a great Thanksgiving like a slice of perfect pumpkin pie.
So, on Thanksgiving, we're thankful for a myriad of things: our health, our fantastic family and friends, the wonderful guests we've met, and of course, we'll say a big "thanks" to whoever came up with the first recipe for pumpkin pie.
Ah! on Thanksday, when from East and from West,
From North and from South comes the pilgrim and guest;
When the gray-haired New Englander sees round his board
The old broken links of affection restored;
When the care-wearied man seeks his mother once more,
And the worn matron smiles where the girl smiled before;
What moistens the lip and what brightens the eye,
What calls back the past, like the rich Pumpkin pie?

~ John Greenleaf Whittier, The Pumpkin (1850)