We've welcomed a handful of new business neighbors to Black Mountain this year, including restaurants, a golf shop and one place we can't wait to check out — White Horse Black Mountain.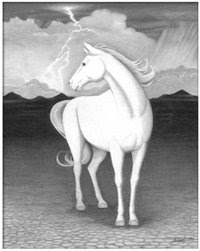 White Horse Black Mountain's logo
White Horse Black Mountain is a new music and arts venue in the heart of downtown of Black Mountain, right on the corner of State Street and Montreat Road. The venue can seat up to 250 people, has a state-of-the-art sound and lighting system and a 30-foot barrel ceiling for acoustics. You can also have a drink (they serve wine, beer, coffee and tea) and light snacks while you enjoy live performances.
We can tell that the owners, Bob Hinkle and Kim Hughes, are excited and proud of their new venture. We had the pleasure of hearing both Bob and Kim perform at a recent event and they wowed the crowd. They're both extremely talented singers and you can see that they have a real appreciation for music.
Below are some upcoming musical acts that Bob and Kim have lined up at White Horse Black Mountain:
December 18: Appalachia Song (shades of bluegrass and standards)
December 19: "Free Form Friday" featuring selected local talent
December 20: Multi-band Winter Solstice concert and live recording, featuring Kellin Watson, Fox Watson (with members of Donna the Buffalo and the Duhks), Woody Wood & Hollywood Red, Velvet Truckstop (w/Sons of Ralph) and The Artemis Pyle Band
December 26: "Free Form Friday" featuring Black Mountain musicians Robert Swain and Bert Brown & Friends
December 27: Blonde Blues
December 31: Barrel House Mamas & Dehlia Low
For more information, visit http://www.whitehorseblackmountain.com/.