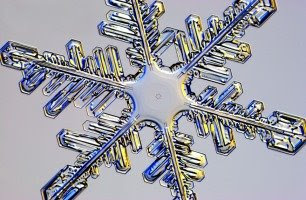 Snowflake photo by
Kenneth Libbrecht at Caltech
Here in Western North Carolina, Winter arrived riding on a strong gust of wind on December 21. Very punctual, that Winter. Our friends up north got some serious snow and we might be jealous if it turns out that you all have a white Christmas. It's supposed to be 57 degrees here on Christmas Day.
Since 2009 begins next week, we thought we'd better get started on our list of New Year's Resolutions (the majority of which will in all likelihood be broken by the end of January). On our list will be the usual "Get more exercise" which we plan to do by hiking all 17 trails in Montreat…or maybe at least three of them. Also on the list will be to reduce stress, which Brigette will achieve by gardening and planning a walking labyrinth at the Inn (Spring cannot get here fast enough…3 months to go!), and Dave will do by not watching the stock market so closely.
If, like us, you're looking to reduce stress, keep in mind that what we in the Black Mountain/Asheville area consider the "quiet" season from January through March is precisely that: quiet. Less crowds and less traffic in the quiet season really help with stress reduction.
If you'd like to escape for the weekend for some post-holiday relaxation, keep in mind that our winter rates go into effect just seven days from now on January 1. Same hundreds of thousands of acres of peaceful Pisgah National Forest around us, same rooms perfect for winter hibernation with fireplaces and Jacuzzi tubs, same breakfasts that guests rave about, same charming Black Mountain and artsy Asheville, same evergreen rhododendron all over the place, yet more green in your pocket.