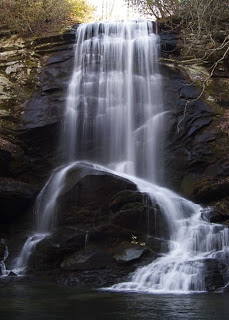 Upper portion of Catawba Falls
Photo by Melissa Dowland
As part of our Inn Turns 10! celebration of the Inn on Mill Creek's 10th birthday in 2009, we're rolling out various lists of 10s. One of our lists contains 10 springtime hikes in our area. We've included several waterfall hikes — not only do April showers bring May flowers (and we've got some spectacular wildflowers in the mountains), but they also bring an abundance of water for our area's hundreds of waterfalls, making Spring a nice time to do a waterfall hike.
Visit our Inn Turns 10 page for details on 10 great Spring hiking/walking trails, which include:
Catawba Falls in McDowell County (pictured above, upper falls photo taken by Melissa, one of our guests)
Parris Creek Forest Service road/trail off our road (photo below is the springtime view of the Black Mountains from Horse Ridge along the Parris Creek road, taken by our guests, Perry and Heather)

Tom's Creek Falls north of Marion
Four Seasons Trail at Chimney Rock Park
Asheville Botanical Gardens walking trail
Looking Glass Rock north of Brevard
Triple Falls at Dupont State Forest
Hickory Branch waterfall trail north of Old Fort
The Woods Walk at Grandfather Mountain
Mountains-to-Sea Trail (near the Folk Art Center)
Happy hiking!