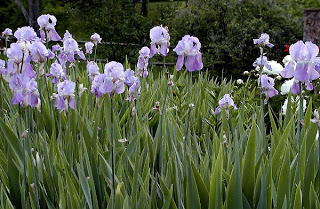 The last of our irises put on a show
As Brigette finishes up trimming back the spent iris blooms at the Inn (make note in garden journal that irises are pretty much done blooming by Memorial Day…), gardening is getting into full swing in the mountains. What better place to see great gardens and get some garden inspiration than the 434-acre North Carolina Arboretum, which unveiled its new website recently.
We toured around the new site a little and were very impressed! Under the Plan A Visit section, you can find all kinds of information about the 65 acres of gardens, 10 miles of hiking/walking/biking trails, the Bonzai Exhibit Garden and a handy listing of events. There's a fantastic section on the Arboretum's economic development activities, and the exhibit section features the greenhouses and traveling exhibits that make the Arboretum a place for education and connecting to nature.
See what's new at the Arboretum by visiting www.ncarboretum.org.