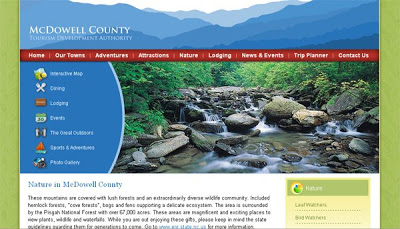 McDowell County Tourism Development Authority has a very eye catching new website showcasing the area's history and features, plus all the different activities in our county, from hiking to birdwatching to sightseeing along the Blue Ridge Parkway.
As a North Carolina Birding Trail site, we like the fact that the website includes a list of birds to see throughout the county with details about which areas/elevations contain which species. [You can learn more about the NC Birding Trail at www.ncbirdingtrail.org.]
We also liked the sections about the railroad and the North Carolina Civil War Trail, as well as the section devoted to suggested itineraries. If you're looking for things to do in McDowell County, this is a fantastic resource.