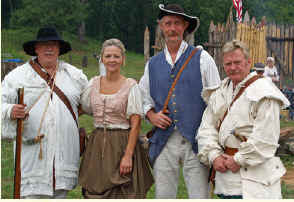 On Saturday, September 19, Davidson's Fort (for which the town of Old Fort, North Carolina, gets its name) will hold its Family Fun Day starting at 10am at one of the Family Fun Day sponsor businesses: Sky Island Retreat and Campground (this is a new location due to rain). Entertainment will be provided by singer, songwriter and recording artist David Cody from Swannanoa. Other sponsors include McDonalds, Catawba Falls Campground and Bouncin Kids.
A $5 per person donation will go toward the costs associated with purchasing the land for the Fort.
The original Davidson's Fort was constructed on land in present-day Old Fort during the Revolutionary War as a gathering place for General Rutherford and the North Carolina colonists as they battled the Cherokee who had sided with the British. Davidson's Fort was the westernmost outpost and militia fort built to defend the colonists in what was the wild western frontier in the late 1770s. Residents of Old Fort are currently rebuilding a replica of Davidson's Fort, which will be finished around Thanksgiving of 2009. It will be the site of reenactments, educational instruction and a significant historical marker for the charming small town of Old Fort.
Directions (updated): Take Bat Cave Road two miles from exit 73 to Harlowe Noblitt Road. Turn left and go ½ mile to Sky Island on the left. Music Hall is on the hill.
More info:
Family Fun Day Flyer
Status reports on the construction of Davidson's Fort
Davidson's Fort website
Previous Inn on Mill Creek blog post: The Building Continues
Previous Inn on Mill Creek blog post: An Intro to Davidson's Fort