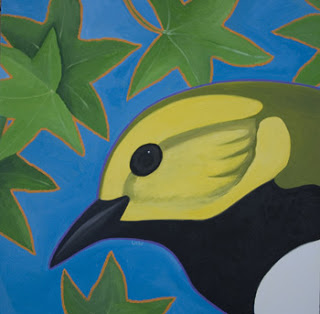 Painting by Lisa Walraven, one of the EAST artists
In the mountains of western North Carolina, art is an important part of the area's past and present. In the late 1800s, for example, George Washington Vanderbilt brought hundreds of artisans to the area to help with the construction of Biltmore Estate and those artists stayed in the area and put down roots, including architect Rafael Gaustivino (designer of Asheville's Basilica of St. Lawrence) who settled in the town of Black Mountain. Additionally, the legendary Black Mountain College provided an art-centered curriculum from 1933 to 1957, attracting artsy students and faculty alike, such as Josef Albers, Merce Cunningham, Buckminster Fuller, Franz Kline and Dorothea Rockburne.
So, it comes as no surprise that our local artists are quite talented, and you have the opportunity to see them in action on October 10 and 11, 2009, when artists from Black Mountain, Swannanoa, Fairview and East Asheville will open their studios as part of the East of Asheville Studio Tour (EAST).
The free, self-guided tour includes 22 stops. You can visit all or as many of the studios as you wish; a handy map is available at the EAST website and we also have copies at the Inn. You'll be able to browse beautiful art for sale, plus many of the artists will be demonstrating their work as well. You'll see pottery, clay, fiber, paintings, woodworking, jewelry, photography, metal, glasswork and more. We really do have a diverse group of very talented artists living in, and getting their inspiration from, this beautiful area of western North Carolina and we're proud to be a sponsor of the EAST event.