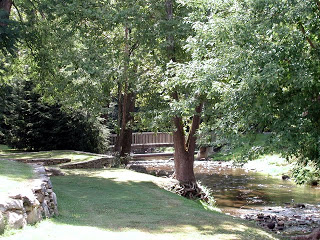 Site of the Oktoberfest Mill Creek Duck Race
October is just around the corner, which means the Old Fort Oktoberfest is coming up. Sponsored and hosted by the Old Fort Chamber of Commerce, Oktoberfest is an annual three-day festival held the first weekend in October in and around the Mountain Gateway Museum in downtown Old Fort. It's a celebration of the beautiful fall season in the mountains and a celebration of the great community of Old Fort.
This year, Oktoberfest will be held on Friday, October 2 (9am-8pm), Saturday, October 3 (9am-8pm) and Sunday, October 4 (12pm-8pm). Festivalgoers can peruse and purchase the work of local artisans and craftspeople, enjoy great festival food from local vendors and be entertained all weekend long with live music and kids' activities, not to mention the Mill Creek Duck Race and a pie eating contest on Sunday. Admission is free.
Some highlights for this year:
Our own North Carolina State Senator Joe Sam Queen will open Oktoberfest on Friday, October 2, at 10am as Master of Ceremonies, and the audience will be treated to a musical performance by children who attend Old Fort Elementary School under the direction of music teacher Jill Young.
On Saturday, October 3, appraisers from Sheehan's Auction in Old Fort will be conducting something akin to Old Fort Antiques Roadshow, where they'll be appraising items at a cost of $5/item, with proceeds to go toward the reconstruction of Davidson's Fort, the Revolutionary War fort that gave the town its name. Appraisers will be at the log cabin on the grounds of the Mountain Gateway Museum. You can get up to three items appraised (no jewelry please).
UPDATED: The second annual Oktoberfest Pie Eating Contest also takes place on Saturday, while the Mill Creek Duck Race will take place on Sunday, October 4. Both of these events are quite entertaining.
For more information, contact the Old Fort Chamber of Commerce at chamber@oldfortchamber.com.