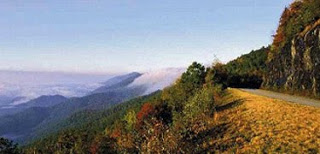 The Blue Ridge Parkway (National Park Service)
Updated (10/20/09): The Blue Ridge Parkway hotline indicates that Milepost 400 to MP 401 south of Asheville is closed due to hazardous road conditions. They suggest taking Highway 276 to access Mt. Pisgah. For daily updates, we recommend calling the Blue Ridge Parkway hotline at 828.298.0398, option 1 (road conditions), then option 3 (North Carolina section of the Parkway).
A lot of our guests are traveling the Blue Ridge Parkway this time of year to see fabulous fall foliage at higher elevations. We thought it best to share the news of the following closure from the National Park Service website:
Milepost 393.6 – 405.5 (Asheville Area) Due to heavy rains, engineers determined that a high risk of slides existed in the area, necessitating this emergency closure. The closure will be in place until further notice. Pisgah Inn remains open and accessible from US Highway 276 at Wagon Road Gap. For southbound traffic from the Asheville area, take NC Route 191, NC Route 280, and US Route 276 to the Parkway. For southbound traffic near the Mt. Pisgah area, take US Route 276, NC Route 280, and NC Route 191 to the Parkway.This closure affects anyone traveling on the Blue Ridge Parkway between Asheville and Mt. Pisgah. We're so happy to hear that the Pisgah Inn is still accessible. The restaurant at the Pisgah Inn, located off the Blue Ridge Parkway, has great food and awesome views, especially at this time of year.
Hopefully, this section of the beautiful Blue Ridge Parkway will be open soon. We'll keep you posted!