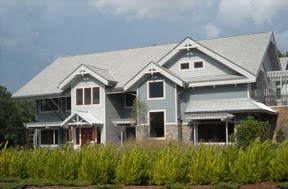 Baker Exhibit Center at the NC Arboretum
Photo Courtesy of the North Carolina Arboretum
So the weather has been a little bit rainy and cool for this time of year, which means it's a great time to explore indoor activities in the mountains western North Carolina, our neck of the woods. Here are a few examples of ways to keep warm while enjoying the area:
You have one day left to experience the 62nd Annual Craft Fair of the Southern Highlands at the Civic Center in Asheville. More than 200 craftspeople, many of whom are part of the Southern Highlands Craft Guild, display their hand crafted works on two floors of the Civic Center. There is live music as well. You can find everything from wood carvings to jewelry, from fiber to clay, from glass to metal to pottery and everything in between. These are amazing regional artisans presenting what are truly works of art.
If you miss the craft show, you can visit the Folk Art Center just off I-40 Exit 55 (about 15 minutes west of our Bed & Breakfast near Black Mountain). Exit 55 is where the Blue Ridge Parkway meets Asheville and the Folk Art Center is at Milepost 382 if you're coming from the Parkway. Galleries showcase permanent collections and exhibits, and there's a gift shop as well (perfect for Christmas presents!).
For more locally hand crafted items, visit The Appalachian Artisan Society (TAAS) Gallery on Main Street in Old Fort, about 15 minutes east of the Inn on Mill Creek. The TAAS Gallery contains the work of over 70 local craftspeople and artists — a true celebration of this area's rich cultural tradition of crafting items by hand. One cool new item at the Gallery is the quilted postcards, handmade by Linda Johnson of Morganton, NC. Additionally, the October featured artist at the Gallery is Rust Pottery, so if you're looking for pottery, you may want to make a stop at the TAAS Gallery.
Right next door to the TAAS Gallery is the Catawba Vale Cafe, which not only provides nice food in a nice atmosphere, but also houses fine art by TAAS artisans. If it's a bit chilly outdoors, this is the perfect place to grab a cup of soup and browse the artwork in a beautiful building dating back to 1871.
The North Carolina Arboretum just south of Asheville (about a 40 minute drive from the Inn on Mill Creek) has fantastic gardens and walking trails, but if you are not a cool weather person (like Brigette), they also have an exhibit hall named the Baker Exhibit Center. From now until November 15, you can see the beautiful photos taken by Asheville area members of the Carolina Nature Photography Association. Additionally, at the NC Arboretum's Education Center, you can see a neat exhibit on bird illustration. Birds: The Science of Illustration runs through October and is part of the NC Arboretum's celebration of the opening of the Mountains Region section of the North Carolina Birding Trail (and to our birder friends — don't forget, the Inn on Mill Creek is also a site on the Trail).
Listening to music is a great way to warm the soul on a chilly day, and our friends at White Horse Black Mountain make it a point to bring in awesome local performers to keep everyone entertained at their music and arts venue in downtown Black Mountain, about 10 minutes from the Inn on Mill Creek. Not only are live acts on the schedule at White Horse Black Mountain, but they're showing sports on Sundays as well as baseball playoffs and the World Series.