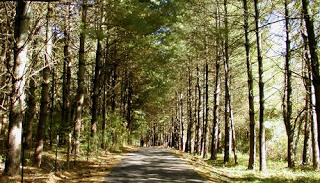 This week, we took advantage of a sunny autumn afternoon and got outside to explore Black Mountain and to do some geocaching as well. For those of you unfamiliar with geocaching, it's the search for items/containers hidden by other geocachers, using latitude and longitude coordinates and a GPS device. When you find the cache, you sign the log inside the container, trade items if you like, and log your find online.
Over 925,000 geocaches, or "caches" as they're commonly called, are currently hidden all over the world, and thousands of geocaches are right here in our part of North Carolina, just waiting to be found. We marked three caches off our list this week.
Our adventure took us and the innpugs, Csaba and Bugsy, to Carver Community Center and the Oaks Trail portion of the Black Mountain Recreation Park, both of which are in the town of Black Mountain, a little more than 10 minutes from the Inn on Mill Creek.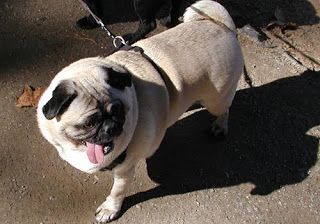 Csaba in geocaching mode
First off was Carver Community Center, west of town. We headed there because Innkeeper Dave bought a metal detector from a gentleman living near the Carver Center (we can just imagine future blog posts about Dave's finds…). The Carver Center houses the Recreation and Parks administrative offices, basketball courts and a beach volleyball court, and offers space for gymnastics, karate, G.E.D. classes, Salvation Army Boys & Girls Club, square dancing, nordic walking, pottery classes, Tai Chi and other activities, according to the town website. There is a charmingly picturesque, restored church called Thomas Chapel across the street and a nice little geocache nearby.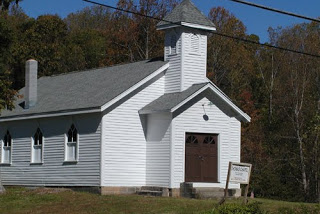 After signing the log at the cache at Carver Center, we drove to the Black Mountain Recreation Park, which is just south of town off Blue Ridge Road (a map is available at the town website). We were impressed! The Park has four lighted ball fields, a nice paved walking/jogging path, picnic areas, a 9-hold disc golf course, and our destination — the Oaks Trail.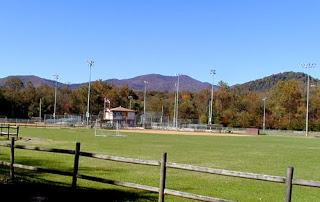 One of the ball fields near Oaks Trail
The Oaks Trail confused us a bit because it's lined with pine trees rather than oaks.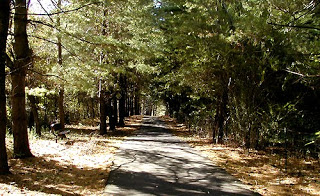 We'll have to find out the story behind the name… It is a rather pretty trail, and the smell of pine needles is always nice when you're out walking. We searched for, and located, two of four geocaches hidden along the trail: Oaks Trail and Ash Cache.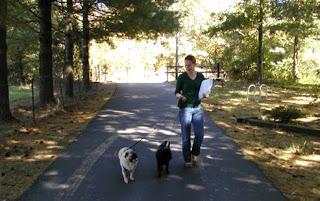 Two happy pugs and one happy geocacher
We'd never been to the Black Mountain Recreation Park before. We enjoyed our short journey to the Oaks Trail, and we'll definitely return to find the other two caches.
If you're interested in finding geocaches while you're in our neck of the woods, check out our Inn Turns 10 page celebrating the Inn on Mill Creek's 10th birthday — we've listed 10 geocaches that are less than 10 miles from the Inn.