This week, the colors have started becoming more pronounced, with a definite increase in scarlet, brick red, and orange, although there are still lots of green trees at our elevation (2,300 feet). The view from the Lake View room is quite colorful this time of year. Here's a photo taken yesterday (note in the foreground across the water — our two curvy "Dr. Seuss" trees, as one of our guests calls them, are still green):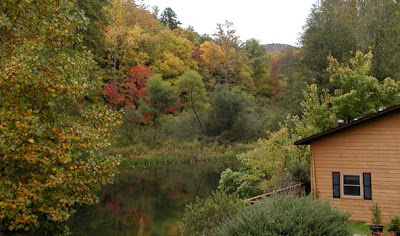 Today as we were driving to Old Fort 15 minutes east of the Inn on Mill Creek, we noticed that several peaks along the Blue Ridge Parkway in the distance are covered in golden and rust-colored tones, the beautiful fall colors that will make their way slowly down to lower elevations over the next two weeks. If the leaves continue to change at the current rate, the peak for our elevation should be between October 20 and October 30 this year.
Coming to our neck of the woods over the next couple of weeks? Here are two locations in our part of western North Carolina that offer the chance to get outdoors to do some hiking and view fantastic fall foliage, plus we've had some good rain lately and these hikes include spectacular waterfalls as well:
Graveyard Fields — No worries, it's not a graveyard. You won't find any headstones or things that go bump in the night. What you will find at Blue Ridge Parkway Milepost 418.8 (southwest of Asheville) is a four mile hiking trail, three waterfalls and gorgeous fall color. The elevation ranges between 5,000 and 5,300 feet above sea level. The website Hike WNC has a great description of the trail.
DuPont State Forest — A purchase of land from the DuPont Corporation by the State of North Carolina in 1996 created the DuPont State Forest southwest of Asheville. After two further expansions, the state forest now has over 10,000 acres in elevation ranges of 2,300 to 3,600 feet above sea level. The Little River supplies the forest with four major waterfalls and several smaller falls, a perfect backdrop for fall foliage. A series of hiking trails run through the forest and a the DuPont State Forest website contains a handy trail guide. We recommend the easy, half-mile hike from the Hooker Falls Access Area parking lot to Triple Falls (which was featured in the movie Last of the Mohicans). From Triple Falls, you can continue on to High Falls. The website NC Waterfalls has beautiful photos and detailed descriptions of the trails for Triple Falls and High Falls.
Check back next week, as its likely our fall color report will highlight the start of peak fall color at our elevation!