Welcome to peak fall color time in our part of the North Carolina mountains! Our elevation (2,300 feet) and the surrounding areas are now ablaze in color after the short cold snap a couple of weeks ago sped up the change in colors. Here's a shot of the southern end of our property: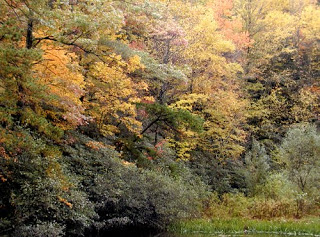 Even though our sourwood trees are dropping their deep red leaves at a faster pace this week, we're seeing more bright reds and oranges as the maples start showing off — those electric red maples really know how to brighten your day.
Although the tulip poplars were lackluster at our elevation this year, in terms of yellows, the hickory trees are looking quite pretty against the evergreen rhododendron and mountain laurel leaves that envelop the lower portion of the ridges around our Bed & Breakfast near Black Mountain, North Carolina.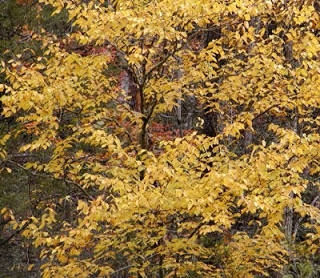 Yellow…

And more yellow
Also giving us some golden tones are the beech trees, and we didn't realize just how many there were until we noticed so many of the leaves on the ground. What a pretty leaf…it might be one of our favorites this year.
The oak trees are continuing to change and we look forward to enjoying this year's fall colors for at least another week.
Not a day goes by that we don't feel grateful for being here and being able to share this beautiful spot inside Pisgah National Forest with our guests and friends. Here are some photos we took this week around the Inn: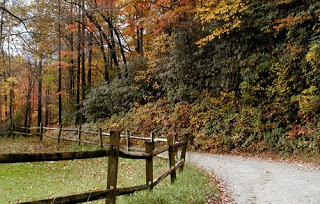 Standing at the end of the driveway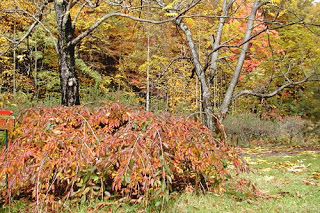 Our little weeping cherry finally turned!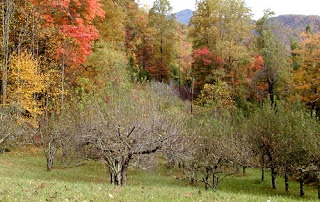 At top of our orchard looking toward Green Knob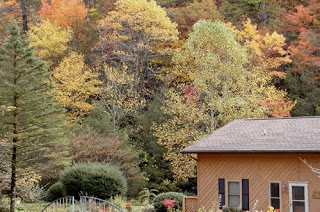 Part of Bernard Ridge behind the Lake House
If you'll be in our neck of the woods over the next week or so, here are some places to enjoy remaining fall foliage in the North Carolina mountains:
Biltmore Estate – One of the legacies of George Washington Vanderbilt and his friends, Frederick Law Olmstead, Gifford Pinchot and Dr. Carl Schenck was the creation of the first school of forestry. It is no surprise that when you visit Biltmore Estate in Asheville, about 20 minutes from the Inn on Mill Creek, you will be rewarded with expansive views of forests that Mr. Vanderbilt and his friends were instrumental in creating and conserving. Biltmore Estate also has walking trails and biking trails that take you around the beautifully landscaped grounds. And when you walk through the Biltmore House, it's easy to imagine being a guest at Biltmore and seeing gorgeous views through your bedroom window. This time of year is perfect for the Rooftop Specialty Tour and a drive along the Lagoon to the Winery for wine tastings. Don't forget, guests of the Inn on Mill Creek receive a $10 discount off the regular one-day gate admission ticket price, and our tickets are good for two consecutive days.
North Carolina Arboretum – The North Carolina Arboretum is a 434-acre public garden, which is actually several different gardens and hiking/walking/biking trails, plus a bonsai exhibit. They also have an exhibit center and education building. Some of the features we like about the Arboretum are the creative Quilt Garden, where they display plants in the pattern of traditional quilts, the Plants of Promise Garden, which is full of native plants, and the Natural Garden Trail. You can also take Segway tours around the Arboretum. The mountains rise up around the Arboretum, so it's great to visit this time of year and be surrounded by the fall colors.
Chimney Rock Park – Our friends at Chimney Rock Park, located 30 minutes south of the Inn on Mill Creek, are reporting nice fall foliage in the Hickory Nut Gorge area that surrounds the Park. Oaks, maples, sourwoods, ash trees and poplars are among the many varieties of trees that are providing fall colors, which are especially pretty when viewed from the 315-foot-high Chimney. Since Chimney Rock Park sees its best color during the latter part of the fall color season, we'll be featuring more about the Park next week.
Check back next week for our final fall foliage report!