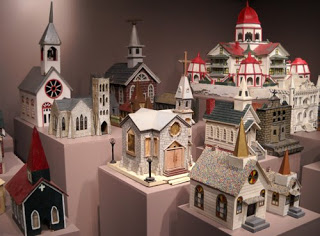 Photo Credit: NC Arboretum
The North Carolina Arboretum is one of our favorite places in the area. Located just south of Asheville, about 40 minutes from the Inn on Mill Creek, the Arboretum has several gardens and trails, as well as exhibits. Now through January 3, 2010, the Arboretum's Baker Exhibit Center is hosting a special exhibit called Building Small: American Folk Art Houses and Structures. The selection of folk art houses is part of what is considered the largest collection of its kind in the country. With a rich tradition of folk art in our neck of the woods, this exhibit fits right in. According to the Arbortum:
"Steven Burke and Randy Campbell have gathered more than 900 structures, including houses, churches, hotels, castles, schools, carnival rides and stores…Most were constructed between 1890 and 1950, and originated from a regional band stretching into New England from the Midwest."
The Arboretum has special hours for the Building Small exhibit:
Tuesdays through Sundays, 10am-4pm
Open until 7pm on select Thursdays, including December 17
Closed Mondays
Additionally, on January 3, Collector Steven Burke will share his insights and perspectives with the public during a special lecture at 2pm. The program is free and does not require registration.
For more things to do while you're visiting the Arboretum, visit www.ncarboretum.org.