Our friends at White Horse Black Mountain shared that they'll be hosting the Great Blue Ridge Talent Search for Singers starting January 28. What a great way to support and showcase the talented performers in our area! The details from White Horse Black Mountain:
WHAT: The Great Blue Ridge Talent Search for Singers at White Horse Black Mountain
WHERE: White Horse Black Mountain (105C Montreat Road, Black Mountain, NC 28711; www.whitehorseblackmountain.com)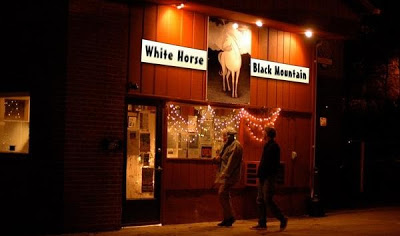 WHEN: Begins Thursday January 28 at 7pm and runs alternate Thursdays through February (2/11 and 2/25). and into March if needed
WHO: Singers who are unmanaged compete for $1,000 in cash and prizes. Prizes include a showcase performance at White Horse Black Mountain, professional career consultations with White Horse co-owner Bob Hinkle (former manager of J Geils Band, Harry Chapin, Etta James, Kenny Rogers, Dottie West, Manfred Mann, etc. (www.bobhinkle.com), a free demo recording in the wonderful White Horse listening room, and other prizes. Singers will fill out an application and pay a fee of $10 to compete. They will receive written feedback from judges.
Asheville native and White Horse Black Mountain co-owner Bob Hinkle's first love in music and entertainment has always been the joy of being present and part of the creative process especially the birth/and growth of new talent and careers. So he's decided to use his significant experience to help young local singers. Bob explains:
"There are so many very talented and creative singers in many genres of music in this area. My wife calls Western North Carolina the 'Greenwich Village' of the South, artistically speaking. Since we have this music venue established now, we thought we'd try to use it more directly to help some of the area artists that are newer on their career paths. That's how the idea of the Great Blue Ridge Talent Search arose."
As part of the Great Blue Ridge Talent Search, Bob will be giving talks about the music and entertainment business to the contestants and answering their questions – essentially a free "coaching" for them. These talks will be open to the public and he also will give longer, free, career consultations to the top three winners.
Potential contestants should visit http://greatblueridgetalentsearch.blogspot.com for information, or contact Bob Hinkle or Kim Hughes at (828) 669.0816. Application forms are available upon request.