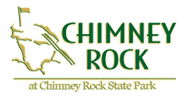 Just like the rest of us, our friends at Chimney Rock Park are ready to welcome Spring back to the mountains after a memorable winter! Here are some of the events going on in March at Chimney Rock, which is only a half hour south of the Inn on Mill Creek, making it a very popular daytrip destination for our guests:
Photo Contest — for all you photographers out there, Chimney Rock's 2010 photo contest kicks off March 15. The theme this year is Show Us a New View, so be sure to bring your camera and send them your unique views of Chimney Rock Park when you go.
Naturalist Series: Survival Skills — The Naturalist Series is offered once a month and focuses on outdoor stewardship and education. In this session, which takes place March 20, participants will learn how to recognize and prepare edible items in the southern mountains environment in the morning (keep in mind, this is not a cooking event). During the afternoon, participants will join a park ranger to learn how to be prepared in the wild, including building a shelter and making a fire. Here's the registration link for this series: www.chimneyrockpark.biz/category_s/25.htm
"Simon Says" Guided Bird Walk: Early Arrivals — the 2010 "Simon Says" Guided Bird Walk series starts off on March 27, from 9am to noon. This walk, led by well-known ornithologist Simon Thompson, is all about early arrivals to the Park, such as Blue-headed Virios and Black-throated Green Warblers. Here's the registration link: www.chimneyrockpark.biz/category_s/26.htm
Grand Opening of The Birdhouse –this exhibit space has its grand opening on March 27, at 12:30pm. Artist Clive Haynes painted the murals on the walls of The Birdhouse. Mr. Haynes painted the awesome murals in the park's restrooms, yes, the restrooms, making them almost an art gallery in themselves. The Birdhouse is an educational feature of Chimney Rock, with signage and exhibits organized by season that are dedicated to helping visitors learn about the many bird species that you can find at the Park.
Then, coming in early April are Chimney Rock's annual Easter Sunrise Service on April 4, and a celebration of the 40th anniversary of Earth Day on April 17. For even more events, check the Chimney Rock website at www.chimneyrockpark.com.