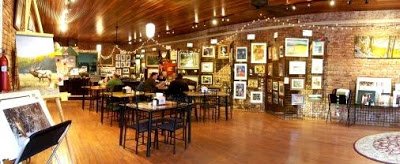 Our area is rich with local musical talent, so we just have to share a new event we learned about with our fellow music lovers:
If you'll be in Old Fort (about a 15-minute drive from the Inn on Mill Creek) on a Saturday afternoon and you want to hear great live music, you may be interested in a new event — GrassRoots Old Fort Music Series — hosted by the Catawba Vale Cafe (pictured above).
Local musicians perform each Saturday from noon until 2pm at Catawba Vale Cafe (which has great food by the way!). The series kicked off last weekend. This Saturday, March 20, Colby Laney and Clint Riddle will be traveling from Johnson City, Tenn., to perform at GrassRoots Old Fort. The performance is free, and we think this is the perfect venue to enjoy music and a bite to eat on a Saturday afternoon as we welcome Spring back to the mountains.
And right next door to Catawba Vale Cafe is The Appalachian Artisan Society Gallery, with items for sale from 60-70 regional artisans and craftspeople. Not only can you enjoy music, lunch and art, but also on Saturday afternoons, the Gallery hosts a free crochet and knitting class sponsored by Pisgah Yarns from noon until 3pm.