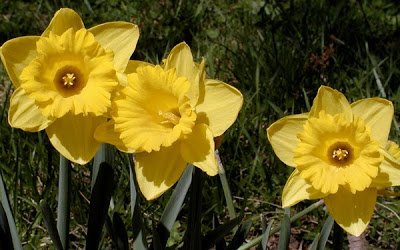 It's been rather warm the past few days and Spring is really ramping up. The trees are starting to turn that vibrant Spring green with new leaves, plus dogwoods, star magnolias, pear and cherry trees are happily blooming in our part of Western North Carolina, making for a pretty drive, even just to the grocery store.
Here at the Inn, our crocuses are pretty much finished, and we now have daffodils out in full bloom (three happy ones pictured above), as well as purple and white grape hyacinths, pink, blue and white giant hyacinths, pansies, while our scene-stealer — the miniature weeping cherry, peaked on April 5: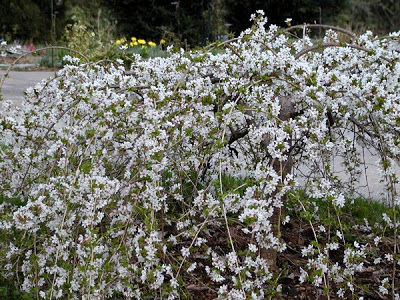 Check out more photos taken at the Inn this past week on our B&B Facebook page.
And if you'll be traveling to our neck of the woods this Spring season, here are some handy links to places where you can maximize your bloom enjoyment:
Blooming now at Biltmore Estate
Chimney Rock State Park Trails
Grandfather Mountain Wildflower Bloom Calendar
North Carolina Arboretum Gardens and Collections