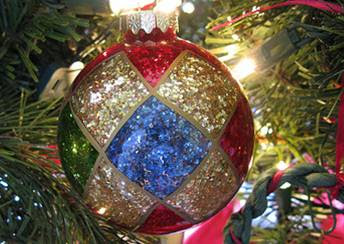 Even though we're two months away from Christmas, the year is flying by and people are already asking about Biltmore Christmas Candlelight Evenings, which include evening tours of beautiful Biltmore House in Asheville, North Carolina, decorated in all its Christmas splendor. The 175,000-square-foot home is dressed to the nines all throughout the year, but she really looks magnificent at Christmastime. It was Christmas Eve of 1895 when George Vanderbilt opened his home to friends and family for the first time, so it's a special holiday celebration that Biltmore continues to this day.
The 2010 Christmas at Biltmore celebration starts on Friday, November 5, and from then until January 2, you can expect to see the grand sights of the season, Biltmore-style: hundreds of poinsettias and wreaths, thousands of twinkling lights, miles of garland, and decorated trees around every corner, including an evergreen "forest" of trees and shrubs in front of the house and a 35-foot fraser in the seven-story Banquet Hall (a Biltmore tradition). Here's a cool time-lapse video from Biltmore Insider of the raising of the 2007 tree:
Dancers will be performing in the Winter Garden as well during Christmas at Biltmore. Additionally, you'll hear the sounds of holiday cheer, with storytellers telling Christmas tales, as well as carolers, choirs and musicians performing traditional songs.
The gated daytime admission price is $62/person during Christmas at Biltmore. Biltmore tickets purchased at the Inn are $50/person for our guests and are good for a free second day. Guests can purchase daytime tickets to Biltmore at any time, including during your stay. Biltmore Estate is located approximately 20 minutes west of the Inn on Mill Creek.
This year, we are proud to continue offering the chance for guests of the Inn on Mill Creek Bed & Breakfast to add a Christmas Candlelight Evening tour, a $10 upgrade. Here are more details about Candlelight Evening upgrades through the Inn on Mill Creek (and we'll go over this with you when you make your request by e-mail or by phone – 828.668.1115):
1) We request a three-day advance notice in order that we can process your ticket upgrade directly with Biltmore.
2) Ticket upgrades are day and time specific; evening tours can be scheduled as early as 5:30pm.
3) If you would like to have dinner on the Estate, we can help with making reservations. Cedric's at Antler Hill Village is the only one of Biltmore's restaurants not taking reservations this season.
4) As a Biltmore Estate lodging partner, our daytime admissions tickets are good for two consecutive days; your Candelight Christmas Evenings upgrade allows you to visit Biltmore during the day of your evening tour, as well as a full day after.
5) The $10 per person upgrade will be charged to your credit card when the tickets are processed, and the upgrade is nonrefundable.
6) Christmas Candlelight Evening tours available any date between Nov. 12 and Jan. 1, with the exception of Nov. 23, Nov. 25, Dec. 24, and Dec. 25.