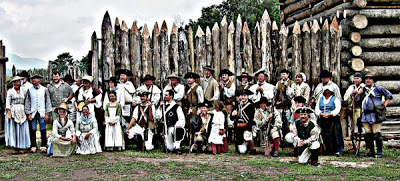 Davidson's Fort Spring Muster, 2010
Photo Credit: https://davidsonsforthistoricpark.com/
Our town, Old Fort, was named for Davidson's Fort, constructed in the summer of 1776 by North Carolina colonists/militiamen on the property of the Davidson family, one of the first settler families in the area. Old Fort was the westernmost outpost of colonial civilization at the time of the American Revolution and Davidson's Fort offered protection against the Cherokee, who had sided with the British.
Over the past few years, residents and historical enthusiasts have been reconstructing Davidson's Fort, located about 15 minutes from the Inn on Mill Creek. The Fort is a living history site open to the public on Saturdays and serves as an educational venue for school children. You can learn more about the Fort at www.davidsonsfort.com and via our Davidson's Fort blog posts.
On Saturday, November 27, 2010, re-enactors and guest historical interpretors will be at Davidson's Fort from 10am to 5pm during the Davidson's Fort Fall Muster. You'll be able to see what life was like in the late 1700s, when the pioneer spirit was essential in the wilderness of early America.