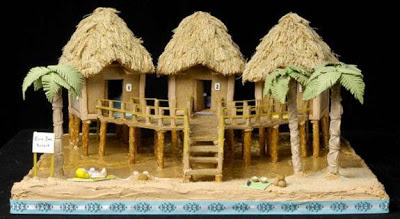 First place winner in the Youth category
Photo Credit: Gingerbread House Competition on Facebook
One sweet event that's sure to get you in the holiday mood is the annual display of delicious looking entries in the Grove Park Inn Resort & Spa's National Gingerbread House Competition, now in its 18th year. The competition brings a wealth of culinary talent from across the country and the entries are divided into four categories: Adult, Teen, Youth (ages 9-12) and Child (ages 5-8). Judging takes place in November, with 1st, 2nd and 3rd place winners being awarded in each category based on overall appearance, originality and creativity, difficulty, precision, and consistency of theme (with competitors choosing their own theme).
You can see photos of the entries at Wright Creative's website, and photos of the winners are now on the National Gingerbread House Competition Facebook page.
If you'll be in the Asheville area, you can see the amazing display in person. The Grove Park Inn and the Grove Arcade, both in Asheville, have partnered to play hosts to the Gingerbread House Competition display. The Grove Park Inn allows public viewing of its competition display Monday through Thursday, while the Grove Arcade's display is open to the public from Monday through Saturday (10am to 6pm) and Sunday (noon to 5pm). The entries will be available for viewing through January 2, 2011.