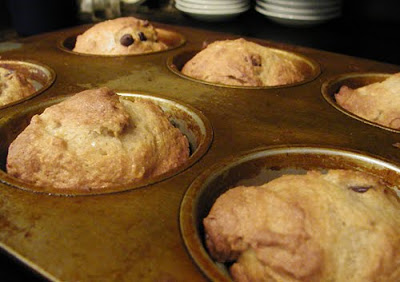 We're starting a new feature on the blog for 2011: We thought it would be fun to post a recipe from our Black Mountain and Asheville area bed & breakfast each month. Then we thought, why not get started early and share a recipe for December? So as the year comes to a close, we bring you our banana chocolate chip muffin recipe. It originated as a bread recipe, but, as it turns out, it makes a much better muffin. [The photo above was taken this morning and is of our gluten free version. We've included that option with the recipe below.]
Banana Chocolate Chip Muffins
from Inn on Mill Creek Bed & BreakfastPrep time: 20 minutes / Bake time: 30 minutes / Makes 10-12 muffins
Ingredients:
1 cup sugar or sugar substitute
1 stick (8 Tbsp) butter or margarine, softened to room temperature
2 eggs
3 ripe bananas
1 Tbsp milk
1 tsp cinnamon
2 cups flour
1 tsp baking powder
1 tsp baking soda
1/2 tsp salt
1/2 cup chocolate chips (chocoholics can add up to 1 cup…your choice!)
Preheat oven to 350.
In a mixing bowl, mix the butter and sugar well, then add eggs one at a time.
In a medium bowl, combine milk and bananas. We find a fork works best to mash the bananas. Mix in the cinnamon until blended.
In another bowl, combine sifted flour, baking powder, baking soda and salt.
Add bananas to the butter/sugar/egg mixture, then add flour mixture until batter forms.
Add chocolate chips.
Spoon into greased muffin pans and bake for 30 minutes.
Serve warm or allow to cool — either way they're good!
Gluten free guests give our gluten free version two thumbs up. To make gluten free muffins, just substitute the flour with a gluten free flour (we like King Arthur general purpose flour). Or make your own. We found the following online. This makes 1 cup, so make sure you double it for this recipe:
2 Tbsp potato starch
1 tsp xantham gum or guar gum
1/2 tsp cream of tartar
Enough white rice flour to equal 1 cup with the above