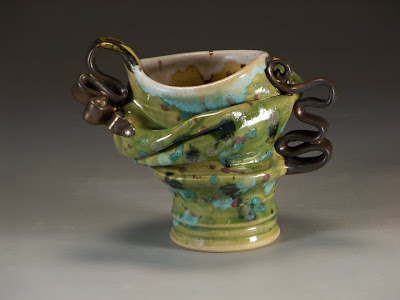 A stellar piece from Turtle Island Pottery. Their work is featured in several local galleries and at their own showroom in Old Fort. Photo Credit: Turtle Island Pottery Facebook Page
Exciting news to share: AmericanStyle Magazine has given Asheville top honors in its list of 25 top art destinations: small cities. We, of course, think it's a well deserved first place award, given the thriving arts (and crafts) community that exists in the Asheville area, and the support for our many artists. To show you what we mean, here's a list of some of the arts events going on in June:
Asheville Downtown Gallery Association Art Walk (June 3): One of four upcoming art walks hosted by the Asheville Downtown Gallery Association this year, the June Art Walk from 5pm to 8pm on Friday, June 3, is a chance to visit as many of the Association's 25 galleries, studios and museums as you desire. That's a lot of places to see art! But they're all worth a visit if you want to get a taste of local art, even if it's not during the Art Walk.

Arrowhead Artists & Artisans League Arts Mart (June 4): Every first Saturday of the month, Old Fort's newest arts group, the Arrowhead Artists & Artisans League, holds its Arts Mart at the depot in historic Old Fort, about 15 minutes east of the Inn on Mill Creek. Pottery, baskets, woodworking, jewelry, fiber arts and more are on display and for sale from 10am to 4pm.

Black Mountain Arts & Crafts Show (June 4-5): Sutton Avenue in the town of Black Mountain (10 minutes west of the Inn on Mill Creek) will be the site of the 14th Annual Black Mountain Arts & Crafts Show. The work of more than 65 juried artists and craftspeople will be on display during this free art event.

Art in the Park (June 11; June 18; June 25): You've heard of farmers' markets. Art in the Park is an artists' market, held in Pack Square Park in downtown Asheville on three Saturdays in June, and again in October.

River Arts District Studio Stroll (June 12-13): Held twice a year on the artsy west side of Asheville, the River Arts District Studio Stroll features the opportunity for you to meet artists in their studios. The Studio Stroll is a walkable tour of 19 historic buildings that have been converted into art studio space. A trolley also takes people to stops along the tour.

Art in Bloom hosted by the Black Mountain Center for the Arts (June 16-19): The Art in Bloom special event, in its fifth year, combines art and flowers. This year's four-day event starts with a gala preview on Thursday, and events throughout the weekend, including garden tours, a garden art panel, a fashion show and exhibitions.
Some great places to see art any time of year include the many Asheville art galleries, the Asheville Art Museum, the Folk Art Center off the Blue Ridge Parkway on the east side of Asheville, the Black Mountain Center for the Arts, and the Sourwood Gallery in Black Mountain, just to name a few. And as was mentioned in a comment at the end of the AmericanStyle article, most of the local restaurants and many businesses (including ours) showcase art for sale by local artisans and craftspeople…just another way Asheville proves itself as the number one small city for art.