We had some time a few weeks ago to head up the Blue Ridge Parkway just northeast of Asheville to Craggy Gardens, a section of the Blue Ridge Parkway off of Milepost 364 that's known for its proliferation of pink and purple rhododendron in May/June (and lots of other wildflowers in spring and summer) and its expansive mountain views.
Here are some photos from the trail (even the parking lot has an awesome view!)
Nice view, huh?
And back down we go!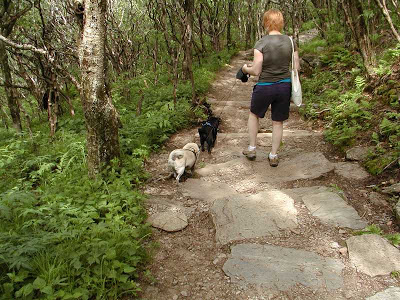 As you can see, the Craggy Pinnacle Trail is innpug friendly, and dogs and people have plenty of space to share the trail. Almost all public trails that we know of in the area are pet friendly; just be sure to keep your dog on leash.
We have maps of all the trails at Craggy Gardens for guests of the Inn. For those who just want to check out the view and spend some time among the wildflowers, other highlights of Craggy Gardens include a picnic area and a visitor center. Even more details about Craggy Gardens can be found at www.romanticasheville.com/Craggy.htm.