Here's a cool exhibit to check out for those of you who plan to go to Biltmore Estate when you're in our neck of the woods:
Biltmore will feature 45 stained glass lamps and other items from Louis Comfort Tiffany and the Tiffany Studios in a special exhibition at Biltmore's Antler Hill Village, from July 1 through October 23, 2011.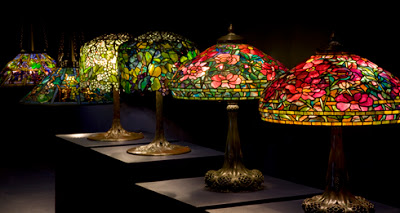 To complement the exhibition, Biltmore is placing Tiffany-inspired creations in Biltmore House and around the gardens, including dragonflies (40 feet tall!) made of flowers and foliage, a 24-foot "Living Wall" of flowers and plants that mimic stained glass near the Conservatory, and floral decorations in tribute to Tiffany's love of botanicals.
And don't forget — when you stay at the
Inn on Mill Creek
, you can get two-day tickets for $49. No transaction fees or extra charges. Just the opportunity to stretch out out your time at Biltmore and take your getaway at your own pace.