We hope you'll forgive our blog hiatus. We've been working on several upcoming projects (can't wait to share them with you!) but we're back now and giving you, dear blog reader, our full attention.
Since we didn't get a July recipe posted, we'll be doing two for August! Here's the first, our popular cinnamon peach bread. Peaches are in season right now so it's the perfect time to make this yummy bread. Enjoy!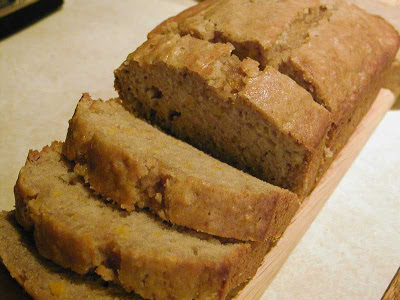 Cinnamon Peach Bread
from the Inn on Mill Creek Bed & Breakfast
Prep time: 20 minutes / Bake time: 55 minutes / Makes 2 large loaves or 3 small
Ingredients
Dry ingredients
3 1/2 cups flour
1 tsp baking powder
1/2 teaspoon baking soda
1 1/2 teaspoons cinnamon
1/3 teaspoon mace
1 teaspoon salt
1 teaspoon xantham gum (helps retain moisture)
3/4 cups white sugar
Wet ingredients (3 3/4 cups liquid)
1 can of light peaches in pear juice OR 2-3 fresh peaches and 1/2 cup water
4 eggs
1/2 cup packed brown sugar
3/4 cup vegetable oil
Directions
Preheat oven to 350.
In a large mixing bowl, combine the dry ingredients and set aside.
In a food processor, mince peaches, eggs, and brown sugar; add oil and mix briefly. (If you don't have a food processor, a mixer will do the trick!)
Combine dry and wet ingredients.
Spray two regular or three small loaf pans with non-stick spray; pour batter into pans but be sure not to overfill (3/4 full should do it).
Bake 55 minutes at 350 degrees.