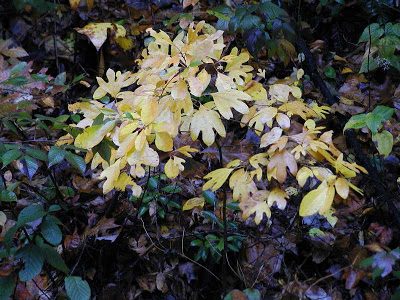 Can you believe it? We're almost to the gorgeous fall foliage season in the mountains of Western North Carolina. Autumn officially kicks off September 23, and there may be a little bit of color at our elevation by then (2,300 feet above sea level), but then before we know it, we'll be dazzled by ruby reds, outstanding oranges, glittering golds and other wonderful color tones in Mother Nature's palette, starting at the high elevations and then washing down the mountains in slow motion.
Fall in the North Carolina Mountains is known for a lot of things…clear cool evenings, Carolina blue sky days, farmers' markets and of course, fall foliage. We'll kick off the first of our annual, weekly fall foliage reports on Tuesday, September 27. Come back to the blog each Tuesday through the first part of November to find out the best spots to see color that week, what trees are giving us their best color show and when the peak will be. Typically, at our elevation, the peak fall foliage time is October 21-31, but it can vary year to year, and with so many microclimates and elevation changes, you will see color within 15-20 minutes of the Inn on Mill Creek between late September and early November.
October weekends are booking fast, but we still have rooms available during the week for those of you who can get away on weekdays or anyone who might be roadtripping down the Blue Ridge Parkway or across the region, for example. And don't forget, we also have a 10% discount on stays of three nights or more, weekends and holidays included.
Stay tuned…we have a feeling we're in for another fun fall season in Western North Carolina!