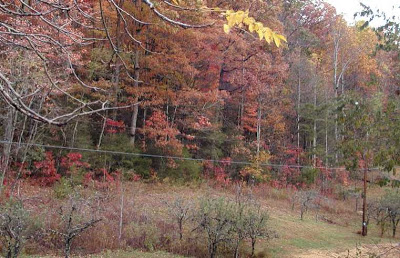 This year, week 5 is peak fall foliage week here in our neck of the woods near Black Mountain and Asheville (we're at 2,300 feet above sea level). The photo above is of Horse Ridge above our orchard.
Gorgeous oranges seem to be the dominating colors this week, brought to us by lots maples. Surprisingly, several maple and oak trees are still green! Still plenty of yellow as well with hickory and beech retaining their leaves. But many trees, including sourwoods and tulip poplars, have shed their leaves for the year. Here's a half-changed maple tree at the Inn, and below that is Mill Creek behind Andrews Geyser, about 6 minutes from the Inn: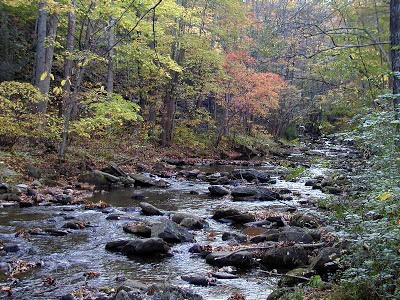 Places we'd recommend visiting during peak week (generally October 21-31) include:
Biltmore Estate – This is a great week to do the Architect's Tour at Biltmore House, where you head out onto the roof for a breath-taking perspective of the mountains
Montreat – Several hikes, such as Lookout Mountain, are perfect for seeing expansive views of the Black Mountains
Highway 221 east of the Inn, in Marion – this scenic route will take you to the Blue Ridge Parkway near Grandfather Mountain (past peak at this point), but also leads to Highway 226, where seven miles north of Marion is Tom's Creek Falls, a lovely two-mile roundtrip waterfall trail through a picturesque wooded area.
North Carolina Arboretum – with ten miles of trails, including the 1.3-mile Bent Creek Trail through beautiful forest along Bent Creek, you can't go wrong at the Arboretum if leaf-peeping is what you want to do.