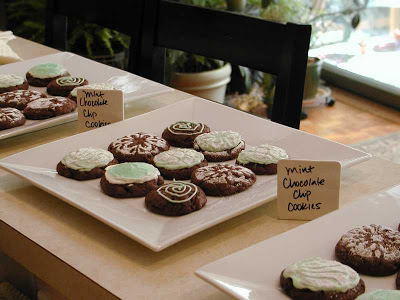 We had a blast during the 2011 Black Mountain B&B Visions of Sugarplums Christmas Cookie Tour! It was great meeting visitors to the Inn on Mill Creek and sharing our little neck of the woods — and our cookies! We had the awesome Jo Northup performing on hammered dulcimer and flute for guests. And the tour benefited a wonderful charity, the Swannanoa Valley Christian Ministry, which provides local residents and stranded travelers with basic and emergency assistance. The SVCM has a food pantry, coordinates the Meals on Wheels program, works with the local homeless shelter, helps those in need with critical financial assistance, and aids in finding job opportunities, job training and educational advancement. Their work is so important in our community and we're extremely grateful to everyone who bought tickets to the Cookie Tour to help out this great group of volunteers.
This being our first Cookie Tour, we wanted to do a cookie that was special, and yummy of course! When thinking of ingredients, two of our favorite things are chocolate and mint. Put them together and you have a cool cookie combo. And you know we like to share, so here is our recipe for Mint Chocolate Chip cookies!
Mint Chocolate Chip Cookies
from the Inn on Mill Creek Bed & Breakfast
Prep+bake time: 50 minutes (cookies); 5 minutes (frosting) / Makes 4 dozen
Preheat oven to 350.
Cookie Ingredients
1 1/4 cups butter, softened
1 1/2 cups sugar
2 eggs
1 1/2 teaspoon vanilla extract
1/2 tsp peppermint extract
2 cups all-purpose flour
3/4 cups unsweetened cocoa powder
1 teaspoon baking soda
1/2 teaspoon salt
1 cup semi-sweet chocolate chips
Frosting Ingredients
1 cup powdered sugar
2 tablespoons butter, softened
1 tablespoon milk
1/4 teaspoon peppermint extract
1 drop green food coloring
Directions
In a large mixing bowl, cream butter and sugar until light and fluffy
Beat in eggs, one at a time
Stir in vanilla and peppermint extract
In a large bowl, sift together flour, cocoa powder, baking soda and salt
Add dry ingredient mixture into butter/egg/sugar mixture and mix well
Stir in chocolate chips with a spoon
Place dough in refrigerator and cool for 30 minutes
Roll dough into 1-inch balls and place on ungreased cookie sheet; flatten with glass or back of spoon
Bake 8-10 minutes; cookies will be soft when removed from oven
Cool for 5 minutes on sheet; transfer to wire racks to finish cooling
Mix frosting ingredients together (adding add'l tsp of milk will make thinner icing if desired)
Frost cookies and cool in refrigerator for 30 minutes to set frosting