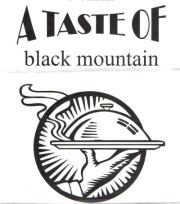 If you'll be in our neighborhood of western North Carolina on Thursday, May 17, be sure to check out Taste of Black Mountain! This food lovers' event held each year at the White Horse Black Mountain venue (and sponsored by businesses such as yours truly) is all about the fabulous cuisine coming out of our local restaurants in the Black Mountain area. What better way to discover the positive emphasis our area of the North Carolina mountains has on "buy local" and farm-fresh fare than tasting delicious food and beverage samples from our local eateries, farms, chocolatiers and pubs? Yum!
See the list of participants at the Taste of Black Mountain page on Facebook.
Tickets for Taste of Black Mountain are available at the Black Mountain-Swannanoa Chamber of Commerce on State Street in Black Mountain (828.669.2300). VIP tickets are $40 and get you in at 5pm. Regular tickets are $25 and regular ticket holders can enter beginning at 5:30pm. Both VIP and regular tickets are limited. The event runs until 7pm.