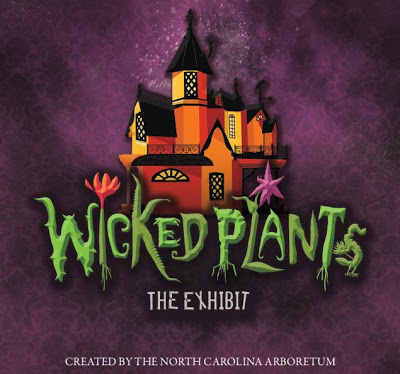 If you're into unique and interesting plants, here's a rather unique and interesting exhibit to see while you're in our neck of the woods — Wicked Plants — based on Amy Stewart's best-selling book, Wicked Plants: The Weed that Killed Abraham Lincoln's Mother and other Botanical Atrocities. The exhibit is showing at the North Carolina Arboretum in Asheville through September 3.
From the Arboretum's website:
This
fun and family-friendly exhibit gives visitors a hands-on experience
with some of the world's most diabolical botanicals ~ without the risk
of pain, poisoning, paralysis or passing on.
Thought provoking, entertaining and educational interactive displays set
in a ramshackle home create a fascinating portrait of the evildoers
that may be lurking in your own backyard. History, medicine, science,
legend and lore are brought together to present a compendium of
bloodcurdling botany that will entertain, alarm and enlighten even the
most intrepid nature lovers.
The North Carolina Arboretum is one of our favorite places, with more than 430 acres of gardens and trails in a gorgeous mountain setting, an education center and exhibit hall, and super nice staff and volunteers! It's also very close to one of the entrances to the Blue Ridge Parkway.