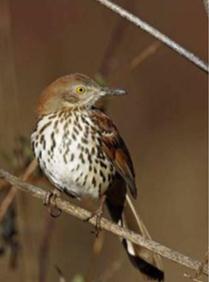 Brown Thrasher; Photo Credit: Todd Acros
A special event is being planned for the weekend of
September 7-9, 2012: our first birding weekend at the Inn!
Bring your binoculars and get set to go birding at various
locations around Black Mountain, Asheville and the Blue Ridge Parkway with
expert bird guide and ornithologist Simon Thompson of
Ventures
Birding Tours
.
Friday at 6pm, we'll hold a meet-and-greet at the Inn for
guests, with hors d'oeuvres and complimentary beverages, as Simon explains the
itinerary and bird checklist for the weekend. Saturday will be a full day of
birding — September is fall migration time in the mountains for several
species, including warblers, vireos and thrushes, and Simon knows all the great
spots to view them. You're likely to see some of our year-round birds as well.
On Sunday, Simon will be back at the Inn for a morning bird walk with guests.
Breakfast at the Inn is included in the birding weekend
package, of course, as well as box lunches on Saturday, provided by our friends
at Louise's Kitchen, who specialize in fresh-made sandwiches and salads made
from local ingredients. We can assist with making dinner reservations on
Saturday evening for individuals or for the group as a whole at one of our
area's fantastic local restaurants.
About our expert guide and
friend of the Inn, Simon Thompson: Simon is a lifelong birding enthusiast
and native of Suffolk, England. He has lived in various parts of the world,
including Ghana, Kenya, Lebanon and Yemen, and has called the U.S. home since
1987. Simon is the founder and originator of Ventures Birding Tours, which
leads bird and nature tours all over the world (for example, Tanzania,
Australia, Colombia and Panama), as well as day trips right here in our
neighborhood of western North Carolina and the southern Blue Ridge. He's also
the ornithologist at Chimney Rock State Park and coordinates guided bird walks
at Chimney Rock throughout the year. When not out on a birding adventure, you
can find Simon at his Asheville Wild Birds Unlimited Nature Shop, which he owns
with his partner, Chris.
About the Inn on Mill Creek: Our
Bed & Breakfast is situated on more than seven private, wooded acres two
miles within North Carolina's Pisgah National Forest. The Inn is proud to be
one of the handful of private properties in the Mountains Region of the North
Carolina Birding Trail, a driving trail of great birding sites around the
state. More than 100 species of birds make Pisgah National Forest their home.
Birds spotted at the Inn in September have included Indigo Bunting, Swainson's
Thrush, Common Yellowthroat, Red-eyed Vireo, Black-and-white Warbler,
Red-bellied Woodpecker, Black-throated Blue Warbler, Blackburnian Warbler,
Rose-breasted Grosbeak, Pileated Woodpecker, Scarlet Tanager, Northern
Waterthrush, Eastern Towhee, Northern Cardinal, Carolina Chickadee, Tufted
Titmouse, Blue Jay, White-breasted Nuthatch, Ruby-throated Hummingbird,
American Goldfinch, Eastern Phoebe, Great Crested Flycatcher, Wild Turkey,
Great Horned Owl, Barred Owl, Cooper's Hawk and Broad-winged Hawk, just to name
a few!
Space is limited, so please
contact us soon by e-mail
or at
828.668.1115 to reserve your spot for the Blue Ridge Birding Weekend at
Inn onMill Creek
! The price of this birding weekend package is $175 per person in
addition to room rates.