Happy New Year! We hope you're off to a great start in 2013. Have you made any resolutions? Perhaps you've resolved not to make resolutions! But if you have made some, may we suggest adding the resolution to relax more and stress less. We have lots of ways you can accomplish that by coming to the mountains of Western North Carolina, and we'll be sharing those with you this year.
First up, take a winter stroll around Biltmore Estate. If it's a bit chilly outside, no worries, the inside of Biltmore House is nice and warm, cozy even, which may seem like a strange word to describe a 175,000 square foot house, but it's true. This is not some stuffy castle, but rather a family home, where George and Edith Vanderbilt raised their daughter and where she raised her sons, and where guests would come and stay for weeks.
During the winter season, your ticket also includes a complimentary audio tour of the house, so you can take your time inside and learn a lot about each room, the Vanderbilt family, their workers, and their guests. In addition to Biltmore House, the glassed-in Conservatory near the Walled Garden features warm rooms filled with luscious tropical greenery — trees, plants and flowers. And you don't want to miss their orchid collection.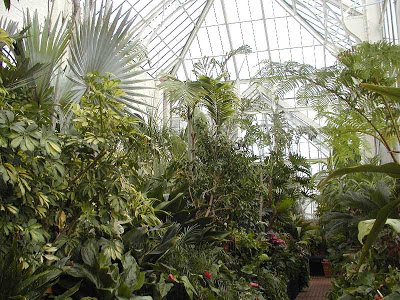 Inside Biltmore Conservatory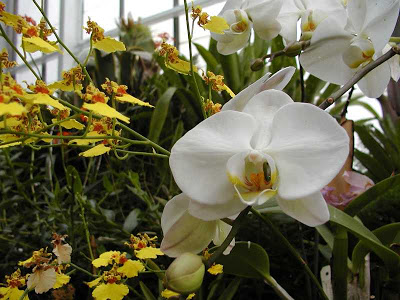 Orchids at Biltmore
There's also Biltmore Winery on the Estate, where you an warm up with complimentary wine tastings, and great indoor dining on the Estate, including Cedric's (American pub cuisine), the Stable Cafe (hearty fare, including burgers, chicken, and Carolina BBQ), and the Bistro at the Winery, which features seasonal dishes made with local ingredients.
If the daytime temperatures warm up on a sunny winter day (and we have plenty of those in the mountains!), you can get outdoors to enjoy some of the 8,000 acres of the Biltmore Estate grounds, including park-like gardens with evergreen shrubs and plants that have "winter interest" (red twig dogwoods and winter jasmine come to mind).
As our guest, you can purchase winter tickets to Biltmore Estate from now through March 20 for $35/person with no additional fees, a discount of $10 off the regular one-day gated ticket price. Our tickets are not date specific, so you can use your ticket any day of your visit, as well as the following day for free. And with the Quiet Season in the mountains come fewer crowds, fewer lines, less hassle, and — you guessed it — less stress.