Can we talk chocolate for a moment, because not only is Asheville known as Foodtopia, but it's also Chocolatopia as far as we're concerned. Early this month, we perused three chocolatier shops in Asheville: French Broad Chocolate Lounge, Chocolate Gems and Chocolate Fetish. Nom nom nom.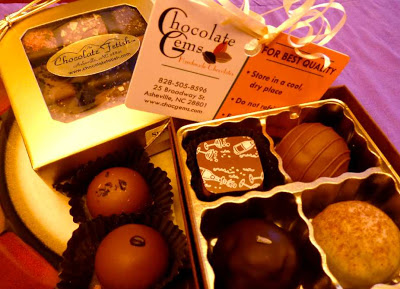 Let's discuss:
French Broad Chocolate Lounge: We highly recommend trying the French Broad Chocolate Lounge's Liquid Truffle, their signature hot sipping chocolate. Among all their amazing truffles, we liked the vanilla bourbon, the cafe au lait, and the Thai (lemongrass, green chile, ginger and lime in a dark chocolate ganache). Also tempting was the chocolate cake made with our favorite local brew, Highland Black Mocha Stout. Of note, you can tour their chocolate factory and tasting room Saturdays at 2pm. Reserve your spot in advance, as evidenced by the fact that we called the day before and they didn't have enough space for us. Maybe next time…
Chocolate Gems: We fell in love with Chocolate Gems when they were located on State Street in the heart of downtown Black Mountain. It was so fun to finally get to check out their Asheville location, which has all their wonderful chocolates and gelato, just in a much bigger space! Out of all their divine handmade truffles, our favorites continue to be the lavender truffle and the peanut butter truffle. They also had a tasty champagne truffle that we couldn't pass up! And don't forget to order up some of their made-from-scratch gelato. It's the real deal.
Chocolate Fetish: Be prepared. The intoxicating aroma of chocolate is the first thing you'll notice as soon as you open the door to walk into this longtime Asheville sweet spot (they've been around since 1986). The next thing you'll notice is that their truffles are huge. Our favorites by far were the milk mint truffle and the Wine & Roses truffle. How can you go wrong with this description of the Wine & Roses: "The rich full flavored dark chocolate ganache is infused with a full bodied French red
wine and an essence of roses then enrobed in a flavorful dark chocolate couverture." We also got a large variety pack of their salted caramels and it lasted about a day, so it's safe to say they're fabulous.
Note that each chocolatier offers online ordering, but we suggest a visit in person when you stay with us at the Inn on Mill Creek! And keep in mind, in addition to the chocolate oasis that is Asheville, the town of Black Mountain near the Inn can also satisfy your chocolate craving with Black Mountain Chocolate and Kilwin's.