In July of this year, a large crack formed on a stretch of the Blue Ridge Parkway north of Asheville, NC. This is a popular portion of the 469-mile Blue Ridge Parkway, especially for guests of the Inn on Mill Creek B&B since the closure was near the Parkway entrance closest to the Inn (just 20 minutes west of us).
The deep crack, which grew to an amazing 300 feet in length, forced the National Park Service to close a section of the Parkway between Asheville and Mt. Mitchell, from Milepost 376 at Ox Creek Road to Milepost 355 at Mt Mitchell State Park. Thankfully, workers were able to move very quickly to construct temporary bypass lanes next to the affected section, and the Parkway is now back open! This means you can once again access great hiking trails and views such as this one, from Craggy Gardens: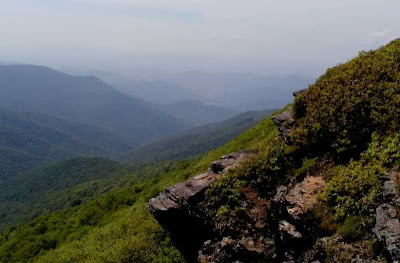 Please note that the speed limit in the bypass lane section is 15 mph. So take your time and enjoy the gorgeous North Carolina mountain views as you travel from Asheville north on the Blue Ridge Parkway.
The bypass lanes will remain in place through this fall season. Repairs to the cracked section and slope stabilization work are anticipated to take place during winter when the Parkway will be closed again, with the expectation that the original portion of the road will reopen in Spring of 2014.