Chimney Rock State Park not only offers visitors "gorge"ous views of Hickory Nut Gorge and Lake Lure during fall, but you can also catch live performances by local musicians on weekend evenings in October as part of Chimney Rock's Beats, Brews & Burgers music series.
Bands will play from 6pm to 8pm at the Old Rock Cafe in Chimney Rock Village (located next to Chimney Rock Park's entrance). At the Old Rock Cafe, you can enjoy our area's awesome local beers or other beverages, sandwiches, salads and desserts, as well as 100% grassfed beef burgers from Hickory Nut Gap Meats, a local farm. All in a beautiful outdoor setting.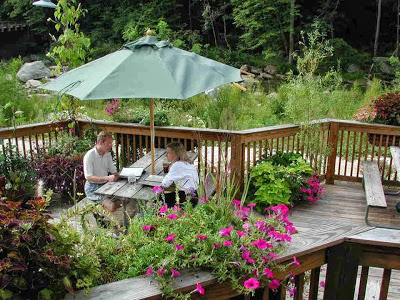 Here's the schedule:
Oct. 11 – Grits and Soul (An Asheville-based band performing bluegrass/Americana)
Oct. 12 – Blissing (an a capella trio from Hendersonville)
Oct. 18 – West End String Band (A bluegrass/Americana band based in the upstate area)
Oct. 19 – Dulci (an Asheville-based singer/songwriter)
Oct. 25 – Grits and Soul
Oct. 26 – Moses Atwood, (a folk/blues songwriter based in Asheville)
Check Chimney Rock State Park's events page for more details and for other events at the Park in October. Chimney Rock is just 30 minutes south of the Inn on Mill Creek B&B.