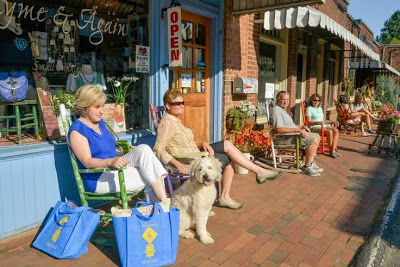 People enjoying the rocking chairs in front of Black Mountain shops
[Photo Credit: Ray Mata of Blue Ridge Pictures]
Black Mountain, a ridiculously adorable small town just east of Asheville that's chock full of locally-owned shops and restaurants, is currently raising funds for renovations to its Town Square. The Black Mountain Town Square is located right in the heart of downtown Black Mountain and plans are to transform it into a gathering place for the community and visitors, with an open lawn for outdoor concerts and other outdoor events, extra parking (always nice in a small town that welcomes a lot of visitors each year), and space for farmers' markets and special events.
In support of the Black Mountain Town Square Project, local businesses and residents have shown their support in many ways, including sponsoring rocking chairs painted by our talented local artists. The rocking chairs are each painted as a representation of a business, community organization, local landmark or icon and placed around Black Mountain for visitors to relax and rock while spending the day in a charming small town known as the "Front Porch of Western North Carolina." And it's no surprise that Black Mountain is now also known as "The Little Town that Rocks!"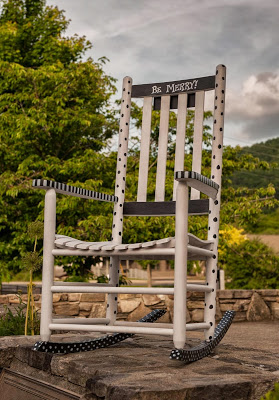 Merry Wine Market, painted by Courtney King
The fabulous painted rocking chairs will be auctioned off between noon and 2pm on Saturday, October 19, 2013, at the Town Square (corner of State St/Hwy 70 and Broadway/Rt. 9), with proceeds to benefit the Black Mountain Town Square Project. Click here to see the gallery: www.thelittletownthatrocks.com/index.php?page=chair-gallery-2.