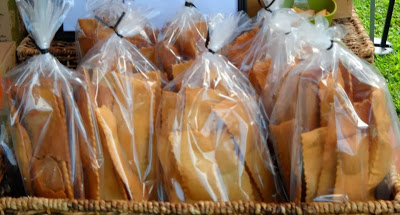 Locally-made flatbread crackers at the Black Mountain Tailgate Market
From spring through fall (and even sometimes in the winter), a trip to the western North Carolina mountains is not complete without a stop at a local tailgate or farmers market, or a roadside produce stand. If you'll be in our neck of the woods this fall season, here is a list of tailgate and farmers markets in western NC that are not far from the Inn on Mill Creek B&B:
Asheville City Market (Saturdays): The Asheville City Market is open on Saturdays from April through December, 8am to 1pm, and has several great items from our local farms, including fresh produce, eggs, pasture-raised meats, farm-raised rainbow trout, brick-oven breads, handmade pasta, locally-produced cheeses, local honey, and more, as well as nursery plants, mountain herbs and cut flowers. You can find the Asheville City Market at 161 South Charlotte Street, just north of the main downtown area.
Black Mountain Tailgate Market (Saturdays): Just 10 minutes west of Inn on Mill Creek is the town of Black Mountain, home of the Black Mountain Tailgate Market, which runs from May through October. Fresh pasture-raised meat, fruits and vegetables, breads, coffee, honey, flowers, soaps, and more, all from local vendors, are available on Saturdays from 9am to noon one block north of downtown Black Mountain, at 130 Montreat Road.
French Broad Co-op Tailgate Market (Wednesdays): From April through November, the French Broad Co-op Tailgate Market offers fresh breads, produce, meats and cheeses, as well as fresh flowers, on Wednesday afternoons from 2pm to 6pm in the parking lot of Build It
Naturally, located at 90 Biltmore Avenue in
downtown Asheville.
Marion Tailgate Market (Tuesdays & Saturdays): From June through October, you can find all kinds of fresh produce, local honey, handmade crafts and more at the Marion Tailgate Market, which is just 20 minutes east of the Inn. The Market is open on Henderson Street adjacent to the historic Marion Depot, from 3pm to 6pm on Tuesdays and 9am to noon on Saturdays.
Western North Carolina Farmers Market (Sunday-Saturday): The WNC Farmers Market is open seven days a week, year-round. Fall hours are 8am to 6pm. Located on 36 acres just west of Asheville at 570 Brevard Road, the Market includes both retail buildings and open-air truck sheds for farmers and dealers to sell directly to the public. It is run by the North Carolina Department of Agriculture & Consumer Services. Allow yourself plenty of time to browse through all that the WNC Market has to offer.