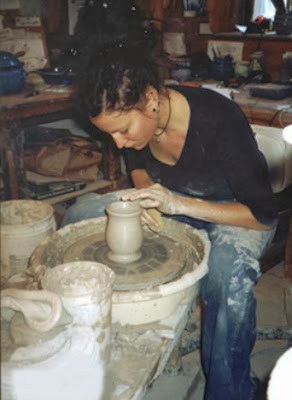 Mathilda Tanner, one of several local artists featured during BLUE to BLACK Art Weekend [Photo Credit: BLUE to BLACK Art Weekend]
We're really excited to share that one of our favorite Black Mountain art events is just around the corner: the Fall 2013 BLUE to BLACK Art Weekend (formerly known as the East of Asheville Studio to Tour – E.A.S.T.) is November 15-17. It's an art stroll and studio tour, celebrating our local artists from east of the Blue Ridge Parkway to Black Mountain, hence Blue to Black. We are a proud sponsor of this event.
The weekend will feature some great opportunities for visitors to explore the local art and craft scene. Here's a breakdown:
Friday, November 15: BLUE to BLACK Art Weekend kicks off at the Monte Vista from 5pm to 9pm. An artists' reception with refreshments and preview of art will be held in the tea room at the Monte Vista on State Street/Hwy 70, just west of downtown Black Mountain.
Saturday, November 16: Check out a free self-guided tour of artists' studios from 10am to 6pm, a great way to meet a lot of our fabulous local artists and see where they create their work. Also, from 11am to 7pm is a free art stroll of downtown Black Mountain galleries and participating businesses that will have a lot of art on display for visitors to peruse. Clay, fiber, wood, glass, paintings, photography and more…our community loves its art and its artists!
Sunday, November 17: The Artists Studio Tour continues from 10am to 6pm, and the Art Stroll continues from 11am to 5pm. Then from 5pm to 7pm, one of Black Mountain's newest awesome local businesses, Dobra Tea, will sponsor "EmpTea Cups", a fundraising event for the Black Mountain Community Garden.
For more details, including a map for both the Artists Studio Tour and the Downtown Black Mountain Art Stroll, visit www.bluetoblackartweekend.com.