Welcome to our seventh and final weekly Fall Color Report for the North Carolina Mountains around Asheville, Black Mountain, and Old Fort. It makes us a little bit sad to know that this is our last report on fall foliage for the year, but we still have some color on the trees and before we know it, spring will be here. Guess we do have to get through winter first. But until then…
Leaves are now past peak on the high elevations along the Blue Ridge Parkway and take note that many visitor centers and other points of interest on the Parkway may be closed for the season. However the roadway can remain open into the winter months and we check each day to let our guests know if there will be any road closures due to inclement weather. There's also a new and awesome Blue Ridge Parkway weather website, which we highly recommend checking out before you embark on a drive along the Parkway: www.brpweather.com.
Heading south, reds, oranges and golds still shine on at elevations below 2,000, particularly at places like Chimney Rock State Park, which typically hits its fall color stride about this time of year. Chimney Rock State Park is just 30 minutes south of the Inn on Mill Creek B&B, so it's a favorite place for a lot of our guests. Here's a photo showing the view from the "Opera Box" at Chimney Rock on November 1. That is Lake Lure in the background: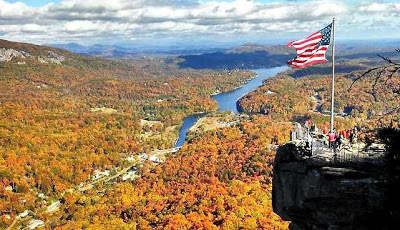 [Photo Credit: Chimney Rock State Park]
Here at the Inn on Mill Creek, our three-year old dogwoods that we received from the Arbor Day Foundation and planted next to the Lake House are finally starting to turn, a little bit late considering most of the dogwoods turn in early October! But they add a beautiful red pop to the area near the deck and we're happy we chose that spot for them. Also, our forsythia leaves are turning yellow and deep red. And wouldn't you know it, the forsythia are blooming once again, just like they do every November. They bloom heavily in springtime as well.
In addition, orange, crimson, and rust-colored oak leaves are still blazing behind the apple orchard at the Inn, although in fewer number than just a few days ago, when we took this photo: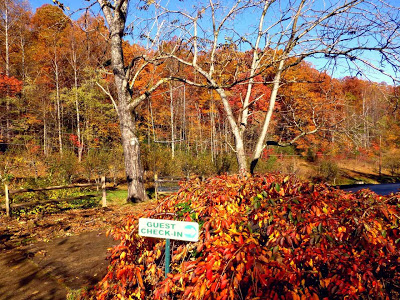 Peak color at Inn on Mill Creek, November 1, 2013
We also wanted to share a video that we took last week of water reflecting on maple leaves at Lake Tomahawk in Black Mountain:
Here's where we recommend going to find late fall color this week around our neck of the woods:
Chimney Rock State Park: As mentioned above, this is really Chimney Rock's time as a fall color superstar. You can't beat those gorgeous views from atop the "Chimney". Plus, the elevator is working for those of you who don't want to take the stairs, although the stairs provide the opportunity to see some really nice views as well. And Chimney Rock is pet friendly and gets two paws up by the Inn on Mill Creek innpugs. Looking for a hike? We recommend the Four Seasons Trail or the Skyline Trail.
Point Lookout Trail: Stretching 3.5 miles from Ridgecrest down to near where the Old Fort Picnic Grounds are located off of Old U.S. Hwy 70 is the Point Lookout Trail. It's actually part of the old highway that was blocked off for decades when I-40 was constructed and was refashioned into a greenway bike/walking trail in 2009. The Ridgecrest end begins at the juncture of Old U.S. 70 and our road, Mill Creek Road, about 1.5 miles from the Inn. By early November, we suggest visitors explore the other end of Point Lookout Trail, which has a nice variety of trees that provide color into the first part of the month, coupled with evergreen rhododendron and beautiful exposed stone along the trail.
Biltmore Estate: Biltmore is also at an elevation which sees late season color and as we reported last week, Christmas at Biltmore began November 2, so you have the opportunity to capture two seasons in one, before actual winter weather sets in. Candlelight Christmas Evening tours of Biltmore House begin November 9, and we do offer guests the convenience of getting discounted Biltmore tickets here at the Inn that are good for a free second day, and can be upgraded to add a Candlelight Christmas Evening tour.