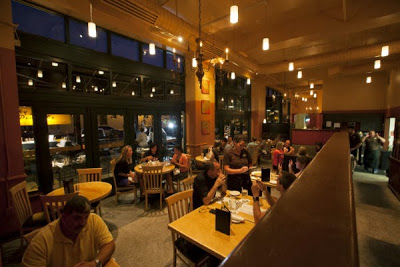 Carmel's, one of several local restaurants open for Thanksgiving 2013
[Photo Credit: Carmel's of Asheville]
Coming to the Asheville/Black Mountain area for Thanksgiving this year? If you want a great meal without having to cook, leave the hard part to fantastic chefs and support a local business in the process: Check out this list of restaurants that are confirmed open on Thanksgiving, November 28, 2013, and let us know if we can help with making a reservation. We'll update if we receive word that more Thanksgiving dining options are available and will add to the list.
BLACK MOUNTAIN
The Madison: The closest restaurant to the Inn on Mill Creek B&B, the Madison will be serving up traditional Thanksgiving fare. And you can get seconds. Plus, they'll have a dessert cart. All for $26 for adults and $13 for kids ages 4 to 10 years old (kids under 4 are free). Reservations are available from 12pm to 4pm: 828.669.4785.
The Monte Vista (added 11/22): West of downtown Black Mountain and conveniently located right on State Street/Highway 70 is the Monte Vista, which will be serving a traditional Thanksgiving meal from 11am to 7pm. The cost is $20/person. Make reservations at Monte Vista by calling 828.669.8870.
The Red Rocker: Located just north of downtown Black Mountain about 15 minutes from the Inn on Mill Creek is the Red Rocker. They are planning three seatings for Thanksgiving dinner this year: 1pm, 3:30pm and 6pm. Reservations can be made at 828.669.5991.
ASHEVILLE
The Bier Garden (added 11/17): Located on Haywood Street in downtown Asheville, the Bier Garden celebrates its 20th anniversary next year. They'll be open for Thanksgiving; reservations can be made by calling 828.285.0002.
Biltmore Estate: The restaurants on Biltmore Estate are offering a few options for Thanksgiving. The Bistro (828.225.6230) will serve a gourmet three-course menu at $55/person. The Deerpark (828.225.6260) will offer a Thanksgiving buffet for $45/person. The Stable Cafe as well as Cedric's Tavern (828.225.1320) will have special items as well as some or all of their regular menu items.
Note that admission tickets are required to dine on Biltmore Estate, so be sure to check with us if you don't have a ticket – we have them at a discounted rate of $49/person (and they're good for the following day for free).
The Blackbird: Formerly a Black Mountain restaurant and still a guest favorite, the Blackbird has found a great home on Biltmore Avenue in Asheville and will be offering a special Thanksgiving menu for $55/person. Turkey is an option, but so is swordfish! Reservations can be made at 828.254.2502.
Carmel's Restaurant & Bar: The Grove Arcade is a highlight of downtown Asheville and the casual fine dining restaurant Carmel's at the Grove Arcade will be offering a special Thanksgiving menu with several a la carte choices for appetizers, entrees paired with sides and desserts. Call 828-252-8730 to make a reservation.
Grove Park Inn: Located just north of downtown Asheville, the Grove Park Inn has more than one
restaurant: Horizons will be serving a Thanksgiving
prix fixe menu from 11am to 9pm, while the Blue Ridge Dining Room and the Grand Ballroom will both offer a Thanksgiving buffet and Ediston Craft Ales + Kitchen will have their regular menu plus Thanksgiving lunch and dinner specials. Call 800.438.5800 to make reservations.
Olive or Twist (added 11/17): Olive or Twist, a restaurant and lounge on Broadway in downtown Asheville, will be serving a Thanksgiving buffet with all the fixings beginning at noon. Reservations can be made at 828.254.0555.

Pack's Tavern: Pack's Tavern on Spruce Street in downtown Asheville is offering two Thanksgiving buffets plus their regular menu starting at 11am on Thanksgiving Day, plus you can watch all the football your heart desires. You can make a reservations by calling 828.225.6944.
Storm Rhum Bar & Bistro: Located in downtown Asheville on Lexington Avenue, Storm Rhum will be serving a three-course Thanksgiving prix fixe menu ($35) from 2pm to 8pm, while the bar is open until midnight. Call 828.505.8560 for reservations.
Strada: One of Asheville's excellent Italian restaurants, Strada Italiano, located on Broadway north of College in downtown Asheville, will be open for Thanksgiving, serving up Thanksgiving fare and most items on their regular menu as well. You can make your reservation by calling 828.348.8448.