We're expanding our garden spaces at the Inn on Mill Creek Bed & Breakfast in 2014, and one new garden that we're planning is called our "Guest Favorites" garden. Earlier this year, we took a poll on our B&B Facebook page to find out what our guests' favorite flowers, shrubs and other plants are, and are planning a garden that features many of the responses.
The Inn on Mill Creek is located in western North Carolina, at an elevation of 2,300 feet, tucked between two ridges inside Pisgah National Forest. We're about 10 minutes east of Black Mountain and 20 minutes east of Asheville, pretty much in zone 7A. This gives us a nice long growing season so we have a lot of plants and flowers from which to choose and we're going to be able to incorporate a lot of our guests' favorites into this garden. The garden is located along the driveway, on a downhill slope beyond this swing: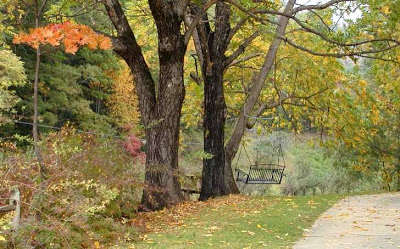 First up, we planted a variety of daffodil bulbs and crocuses for a pop of color in late February through March, while we plot out the remainder of "what goes where". A dwarf redbud will be arriving next Spring for planting, and we've already planted a butterfly bush that's a baby plant of our richly hued wine-colored butterfly bush in the pool garden: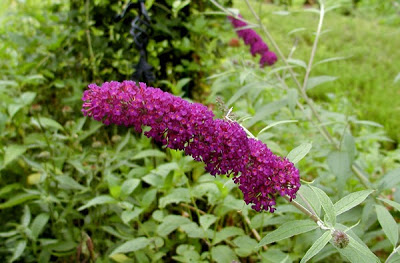 In spring of 2014, we'll be planting a trio of pretty pink peonies, Sarah Bernhardt to be exact. For summertime, we'll have a hydrangea or two (leaning toward a white version) and shrub roses, along with daisies and echinacea (coneflower). And since half of the Guest Favorites Garden is shade, we'll be planting colorful astilbe along with a variety of hosta plants. We like this color combo in particular (from cadysfallnursery.com, found on Pinterest):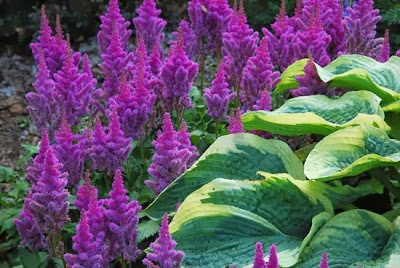 We're also planning some hardscape features, such as large stones/boulders, as well as evergreen shrubs and grasses to provide winter interest. Stay tuned for updates as we get the Guest Favorites Garden underway!