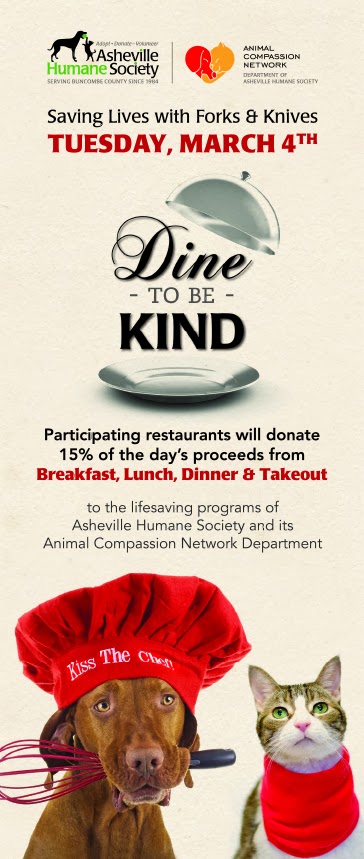 The 11th annual Dine To Be Kind event, where participating local restaurants donate a portion of their sales (including take-out and bar tab) to the Asheville Humane Society and its Animal Compassion Network Department, will take place Tuesday, March 4, 2014. Just another reason to support our local restaurants, coffee shops and taverns – they are awesome supporters of lifesaving programs for pets-in-need. Have we mentioned how much we love living in an area that loves animals?
More than 50 Asheville area restaurants are taking part in Dine To Be Kind, including some of our guests' favorites: Corner Kitchen, Cucina24, Laughing Seed Cafe, Lexington Avenue Brewery (LAB), Mela, Posana Cafe, Table, Veranda Cafe in Black Mountain, Zambra…the list goes on. They will donate 15% of their proceeds to help Buncombe County on its way to being a no-kill community.
View all of the restaurants and see more information about this great event at www.ashevillehumane.org.