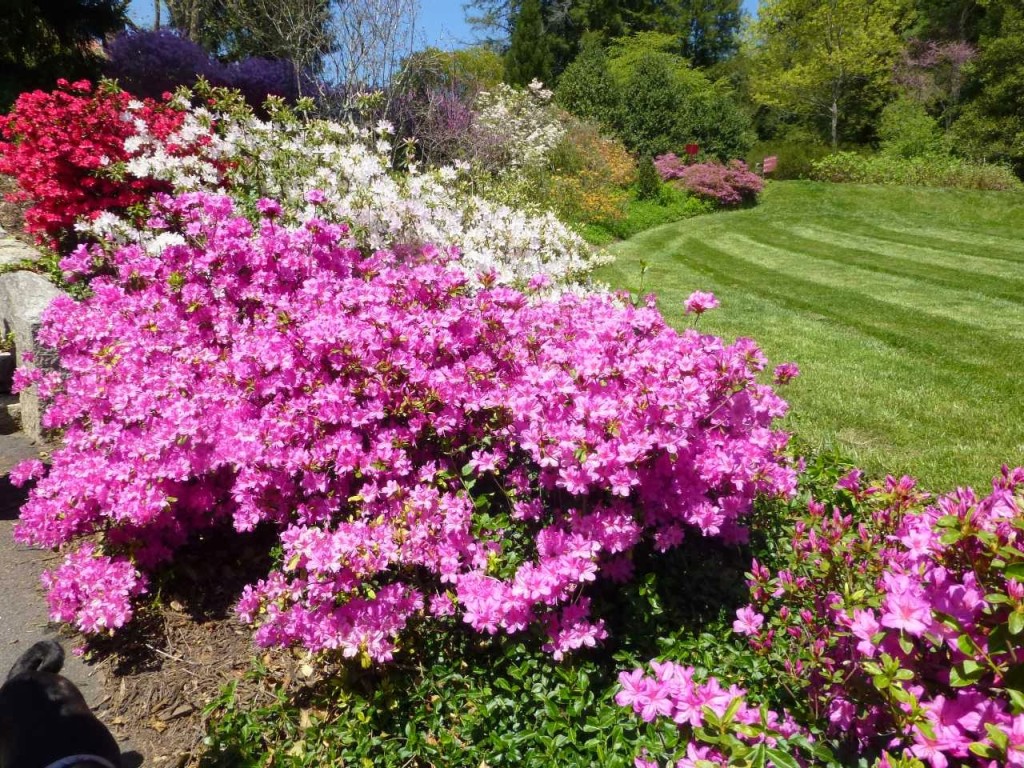 Azaleas usher in spring
Springtime in the mountains of Western North Carolina… there's nothing
quite like it. While we always suggest late April through the month of May as
the prime time in spring for maximizing your enjoyment of the area's colorful flora and
fauna, the season really does magically kick off each year right around March
20, with daffodil and forsythia blooms, among some other early spring flowers.
And Biltmore helps out, too, with its Biltmore Blooms celebration.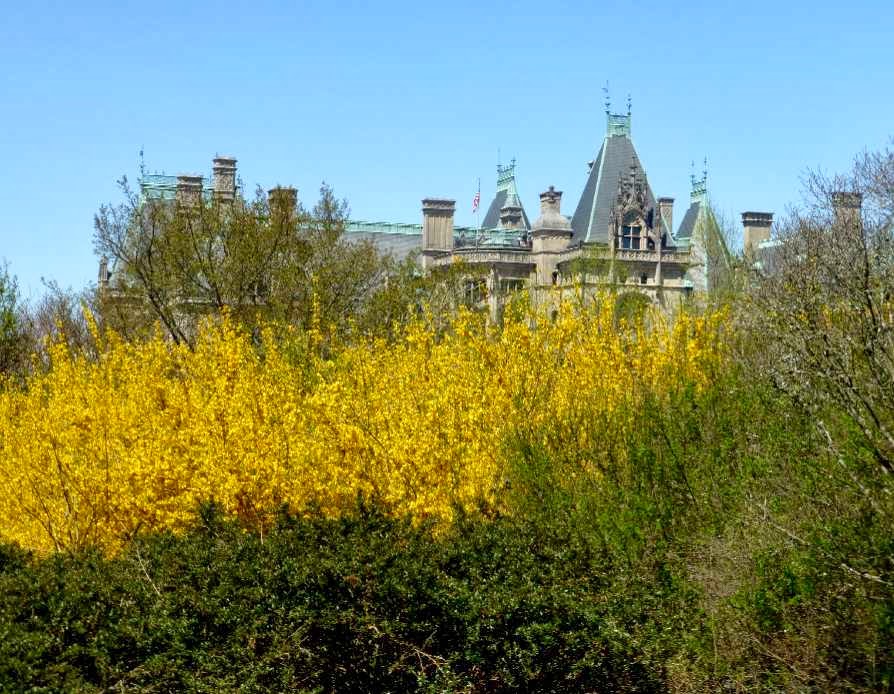 Forsythia blooming at Biltmore in April
Lasting from March 20 through May 23, Biltmore Blooms showcases the
ridiculously beautiful spring landscaping at Biltmore Estate, allowing plenty
of time to see different blooms at different times.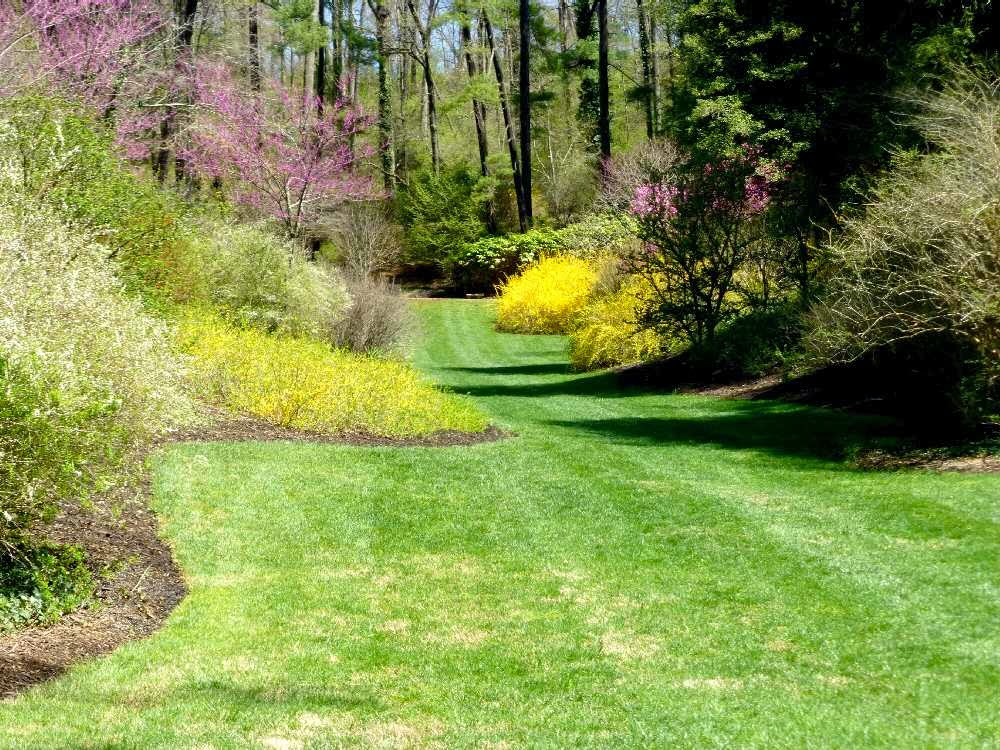 The Spring Garden at Biltmore, early April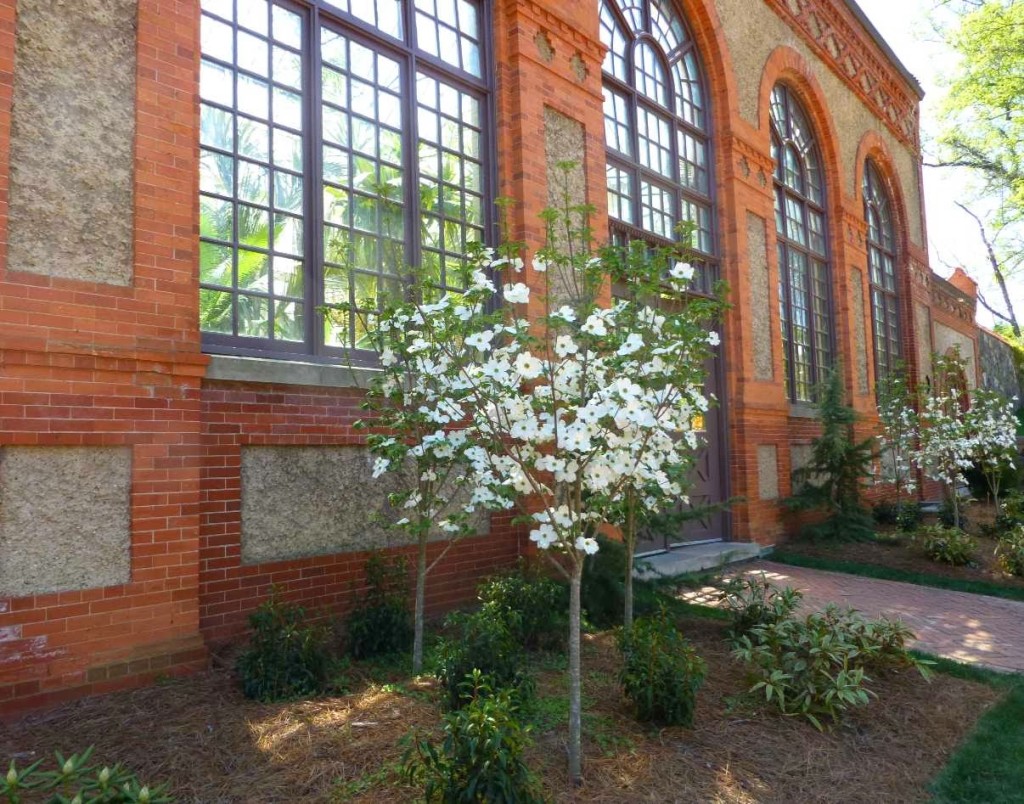 The Conservatory at Biltmore in springtime
Biltmore kicks off Biltmore Blooms with an orchid display in the Winter Garden room inside Biltmore House from March 20 through April 6. Normally separated from the room by ropes, you have the opportunity to actually step down into the Winter Garden room during this time, and walk among the gorgeous orchids. We had the opportunity to see the orchid display last year at Biltmore Estate and it was very well done and just a neat experience to walk around in the space of the Winter Garden and see the house from a different perspective.
Mid-April is usually a pretty good time to enjoy the thousands of tulips, as Csaba the Innpug is demonstrating: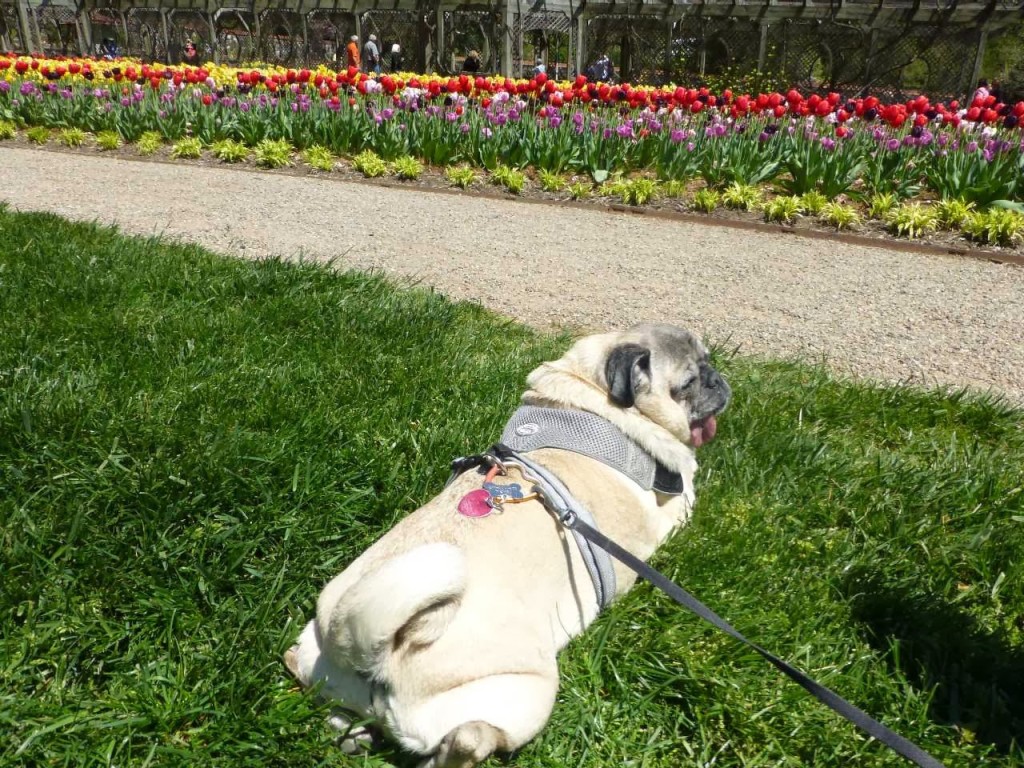 Thousands of tulips to see at Biltmore, and sometimes pugs, too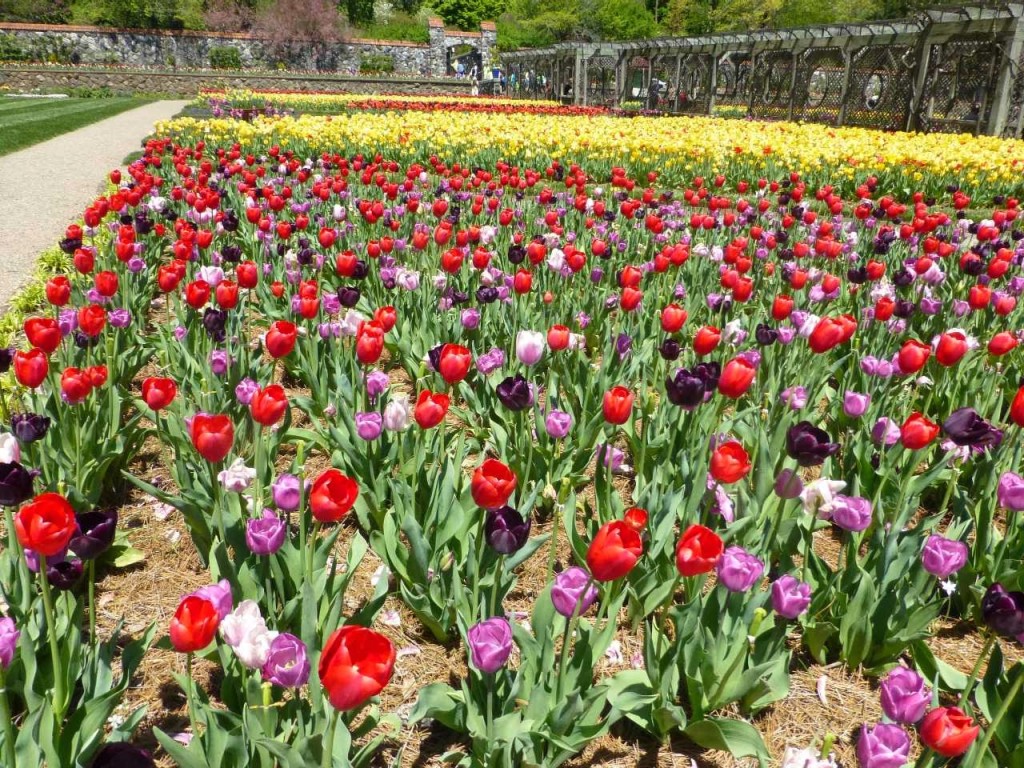 Tulips as far as the eye can see
And late-April to early May can be a wonderful time to see the Azalea Garden at Biltmore: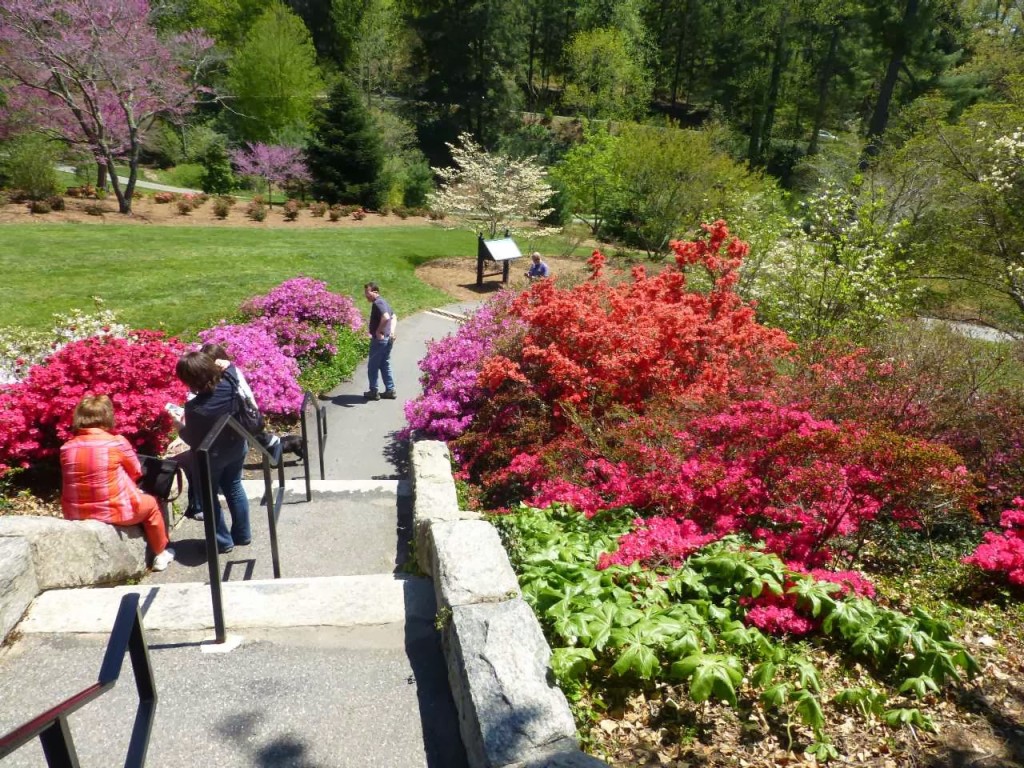 Part of the Azalea Garden at Biltmore Estate
The month of May is perfect for a "stop and smell the roses" moment at Biltmore. Their rose garden has quite the variety of color and type, from climbing to shrub to floribunda and everything in between.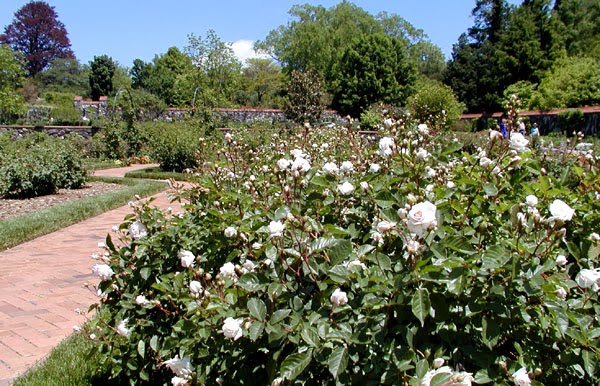 International judges will judge roses at Biltmore on May 23, 2014
We highly recommend taking this path under the wisteria if you visit Biltmore in the spring: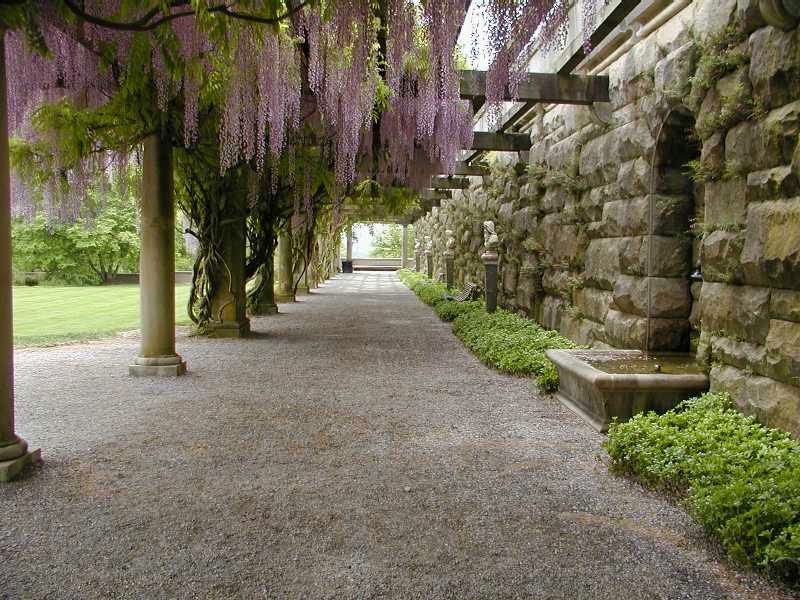 Wisteria blooming at Biltmore during a previous May
Here's a sampling of what
you'll see at various times during spring at Biltmore Estate, from Biltmore'swebsite:
Early April
Darwin Hybrid Tulip varieties begin blooming in the Walled Garden and Estate
Entry. Other estate blooms include early flowering shrubs and trees, forsythia,
spirea, magnolia, and flowering cherries.
Mid-April
Darwin Hybrid Tulips are usually at peak in the Walled Garden and Estate Entry.
Other estate blooms include spring bulbs, dogwoods, and redbuds.
Late April
Single late tulips fill the Walled Garden, Estate Entry, and Winery beds, until
the last week when poppies, snapdragons, and pansies are planted. Other estate
blooms include hybrid azaleas and various flowering shrubs.
May
In bloom are poppies, snapdragons, and pansies in Walled Garden, Estate Entry,
and Winery beds. Other estate blooms include native azaleas (first week is
usually the peak), and various flowering shrubs.
Other activities besides flower watching include spring seminars at the Gardener's Place behind the Biltmore Conservatory, live music inside Biltmore House, in the Conservatory and at the Antler Hill Village Bandstand, grape stomping at the Winery, and of course, the specialty tours of Biltmore House (we recommend the Architect's Tour).

Guests of the Inn on Mill Creek Bed & Breakfast can purchase discounted Biltmore tickets that are also good for a free second day so you can take your Biltmore visit at a leisurely pace.