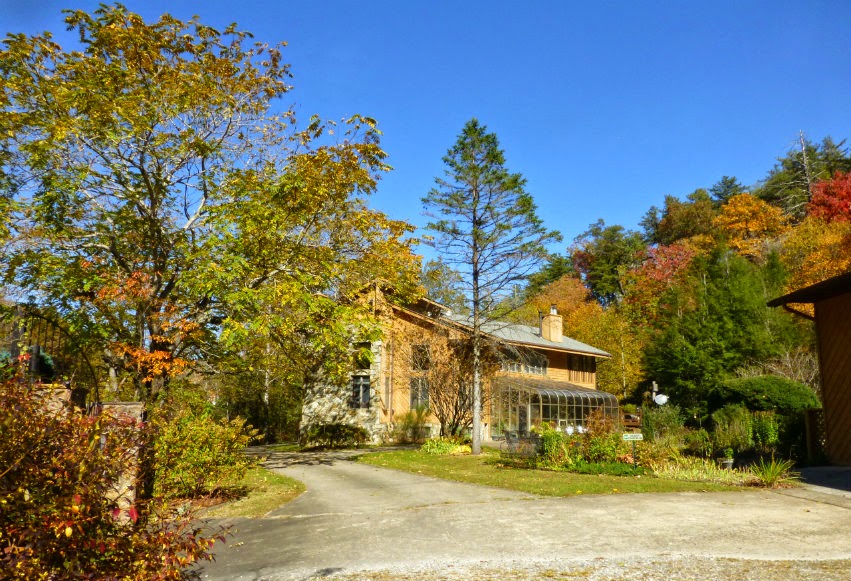 The Inn on Mill Creek B&B in late October
"Peak week" for fall color has arrived in our neck of the woods, between Black Mountain and Old Fort, NC (2,300 feet in elevation). The Inn on Mill Creek B&B is situated two miles inside Pisgah National Forest, and with so many different tree types, we are seeing large bursts of varying color all around!
We have a wide variety of oak trees (scarlet oaks being our favorite), especially on Horse Ridge behind our apple orchard at the Inn, and many are now joining the fall color show. Sugar and red maples are at peak along with birch and beech trees, plus sourwood trees continue to hold their scarlet and orange hues, so the mostly yellow landscape is quickly shifting to bronze, orange and red.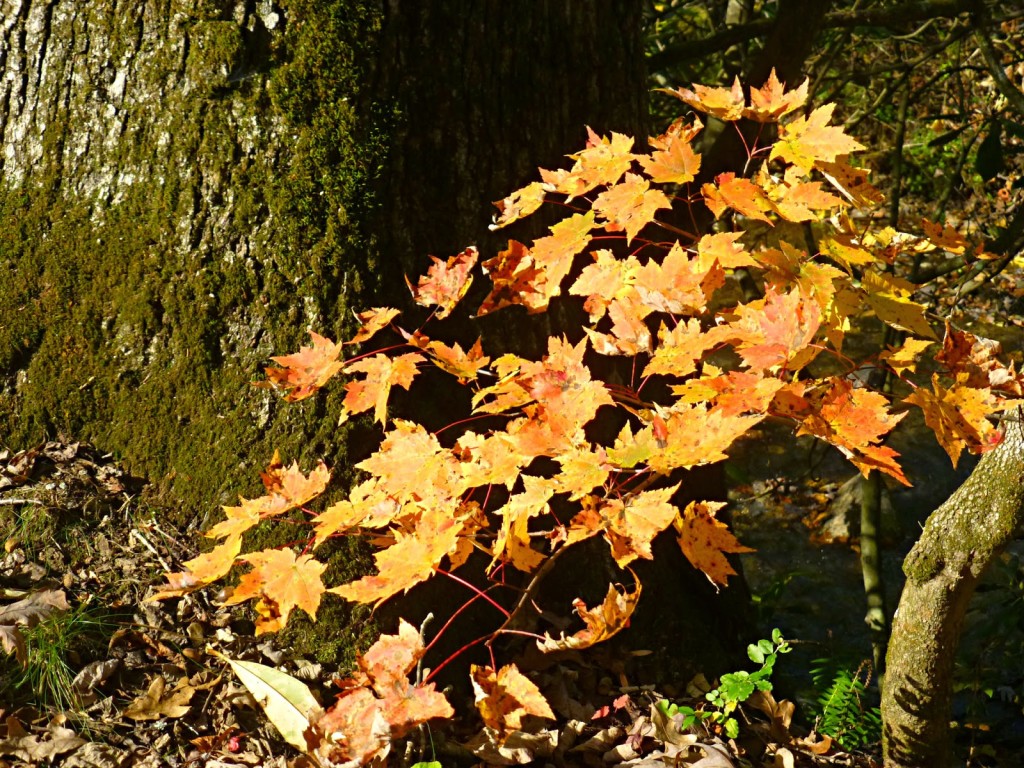 A little sampling of late October color in Old Fort, NC
Most of the elevations along the Blue Ridge Parkway above 3,500 feet are past peak, so if you plan a trip to Mt. Mitchell, Craggy Gardens, Grandfather Mountain, Mt. Pisgah or Graveyard Fields, the hiking is still great, but the colors have faded. It is nice to see the structure of the mountains, however, and to see those long range views without foliage in the way. Don't forget to wear layers if hiking at high elevations…temperatures can be as low as the 30s and you might even see snow above 3,500 feet once we get into November! Also take note that portions and places along the Blue Ridge Parkway may start closing starting November 1, depending on the weather.
To find great fall color this week and next, stick to elevations below 3,000 feet. Here are some ideas:
Take a fall color drive east of the Inn and stop at the Old Fort Picnic Grounds at the juncture of Mill Creek Road and Old US Hwy 70. This section of the National Forest is a splendid place to have lunch and there is a short, easy forested trail at the back of the picnic grounds, as well as a 4-mile more moderate trail called Young's Ridge that leads off of the Picnic Grounds near the front. Here are some photos taken of the picnic grounds this week: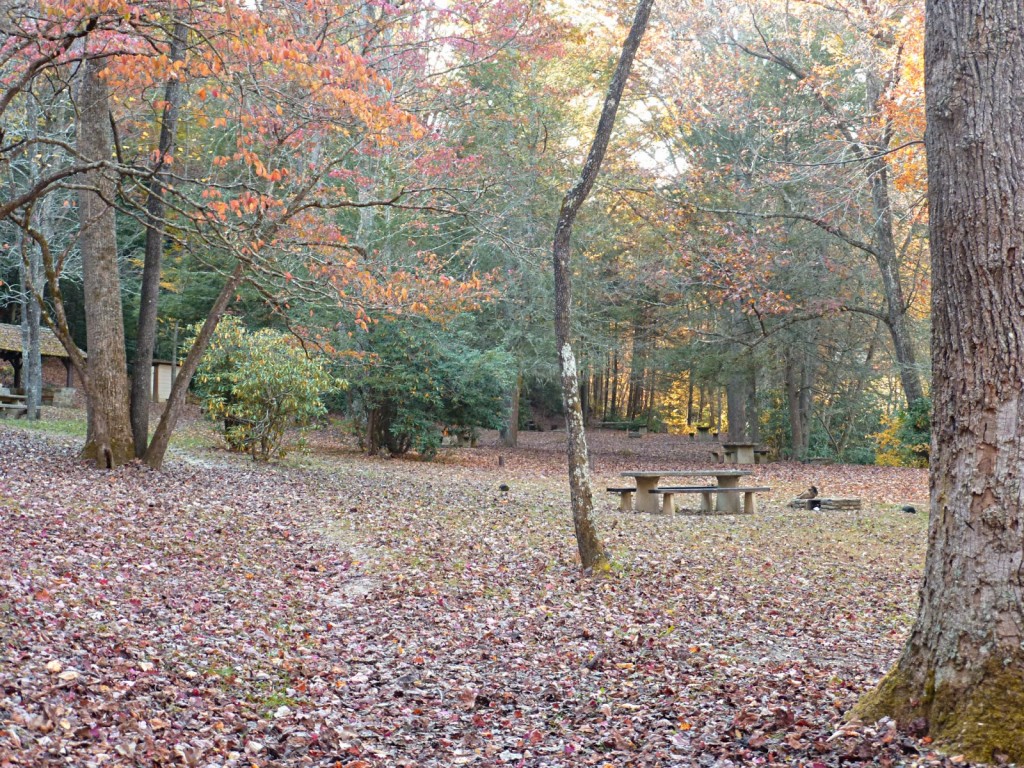 Old Fort Picnic Grounds in late October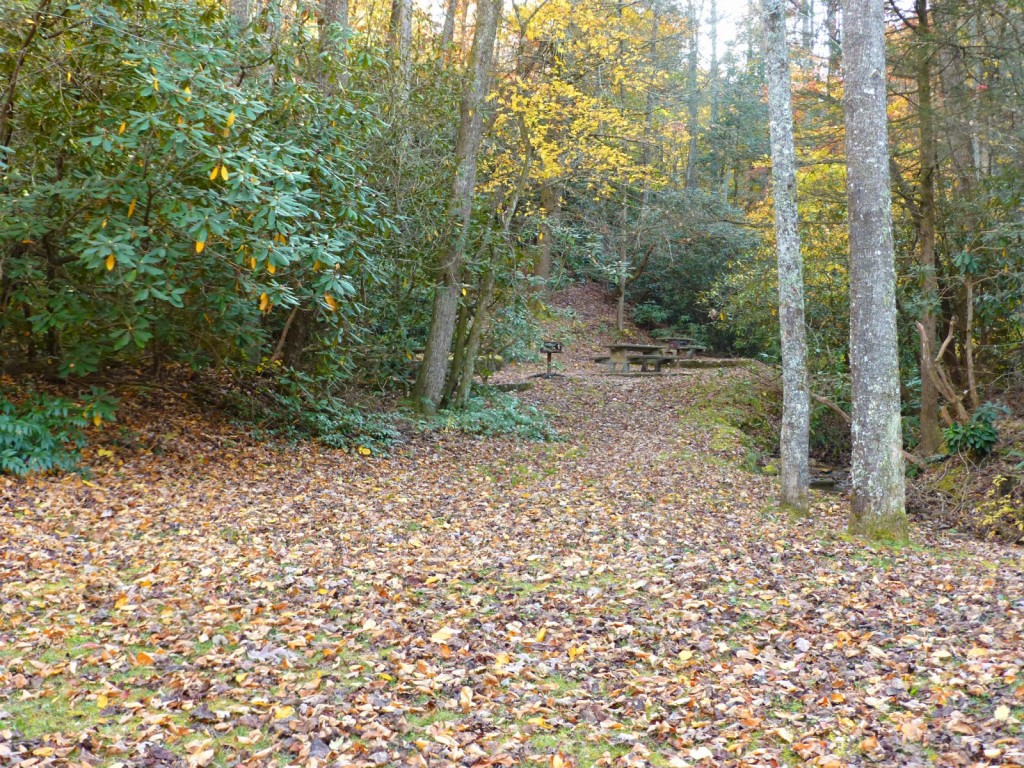 "Leaf crunching" season as we like to say!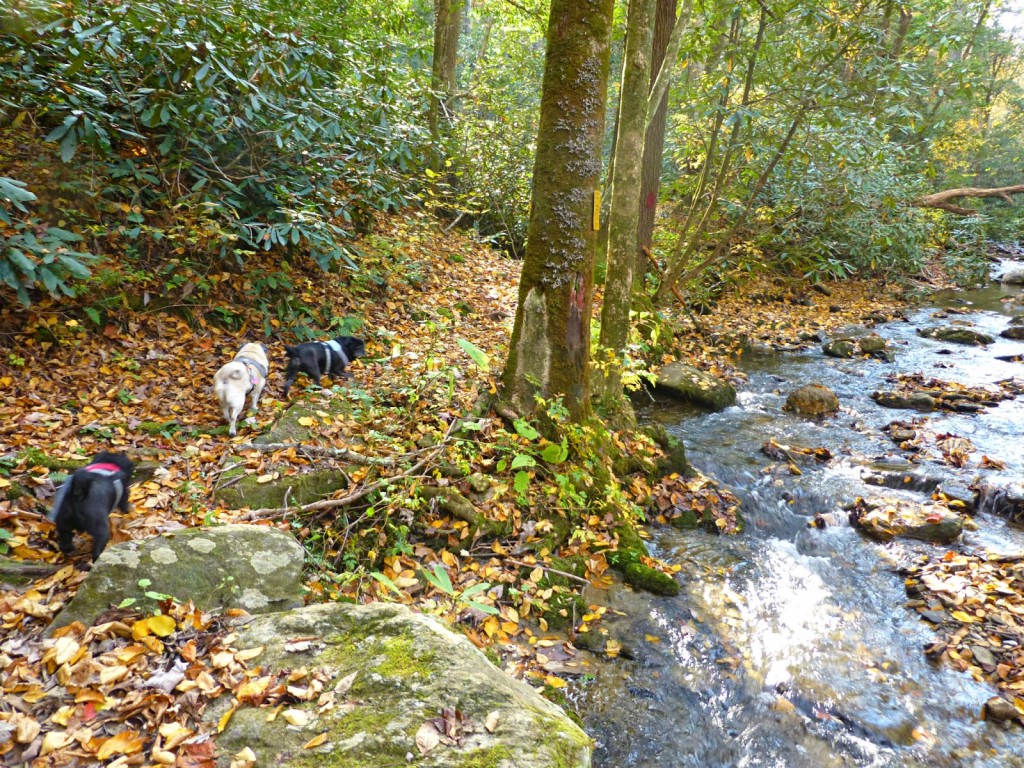 Short trail in the woods, innpug approved
Facing the Old Fort Picnic Grounds on Mill Creek Road, you can turn right, go 1/10 mile and park near the Old Fort end of the Point Lookout Trail, a 3.5-mile paved greenway that is ablaze in color this time of year. The trail is easy for walkers and more moderate for bicyclists, with about 700 feet in elevation gain from the bottom to the top at Ridgecrest.

If you turn left when facing the Old Fort Picnic Grounds entrance from Mill Creek Road, you can travel Old US Hwy 70 into Old Fort, where the trailhead to Catawba Falls is not too far away. Or take US Hwy 70/Main Street east through Old Fort for some nice driving through lower elevations toward Marion, including scenic Highway 221. Here's the drive this week on Old US Hwy 70:
Old US Hwy 70 between the Inn on Mill Creek and Old Fort
We also recommend the 434-acre North Carolina Arboretum southwest of Asheville, which has 10 miles of beautiful forested hiking and biking trails through the Bent Creek area near Asheville. To get to the Arboretum from the Inn via the "scenic route", take Hwy 70/State Street west through charming Black Mountain and Swannanoa. You can then get on the Blue Ridge Parkway and travel the Parkway south a short distance around south Asheville from Milepost 382 at the Folk Art Center to Milepost 393. This stretch of the Parkway is in full color. The Arboretum does have a nominal entry fee.

For a free, smaller-scale alternative to the North Carolina Arboretum, the Asheville Botanical Gardens north of downtown Asheville near the UNC-Asheville campus has over 600 plant species that are native to the Southern Appalachians and a half-mile walking loop around the grounds to enjoy, along with a few side trails. (Donations are accepted in lieu of an entry fee.)

The WNC Nature Center is also a neat place to visit, located on the east side of Asheville, about 20 minutes from the Inn on Mill Creek B&B. You'll have the chance to check out the wildlife at the Nature Center and see beautiful fall foliage, too.
We will be doing at least one, if not two more fall color reports since it does look like the color will be sticking around a little while in our neck of the woods and heading south toward places like Chimney State Park. And don't forget, when the leaves start falling, beautiful color can be found by looking down instead of up!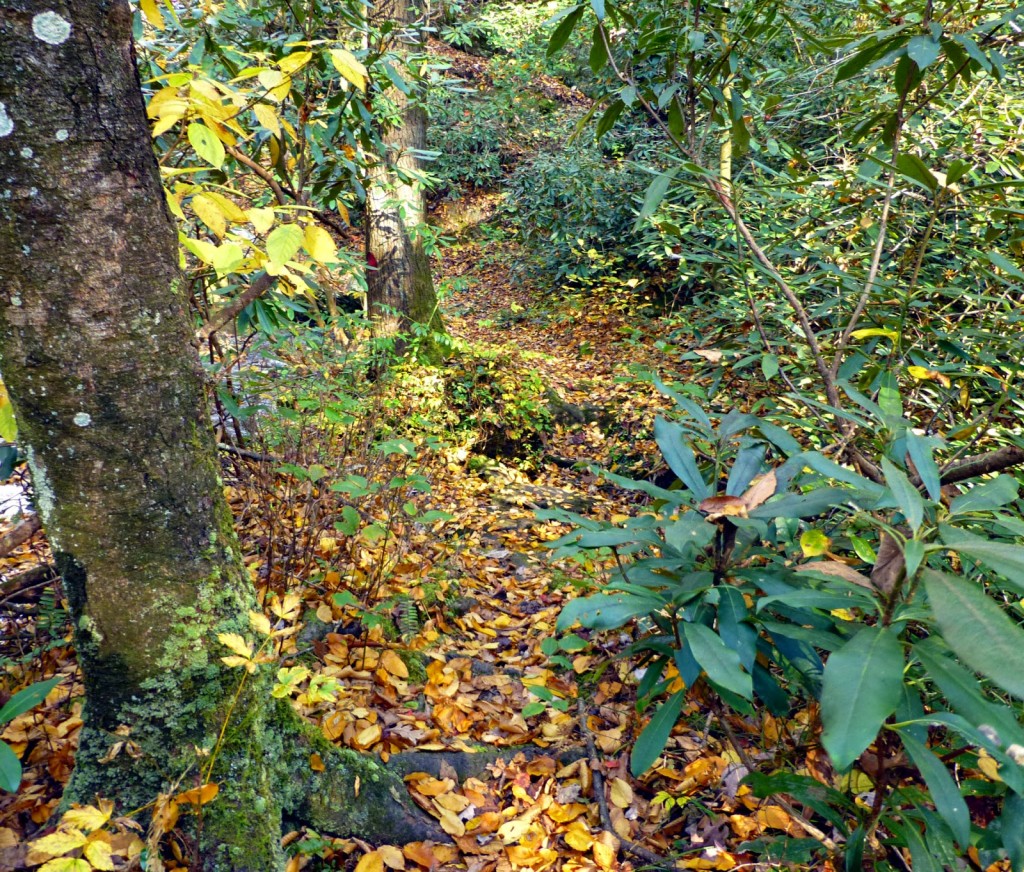 Along the trail at the Old Fort Picnic Grounds, late October