Looking for a unique garden to tour, a free and fabulous flower fix as we say? Then the Lake Lure Flowering Bridge is for you.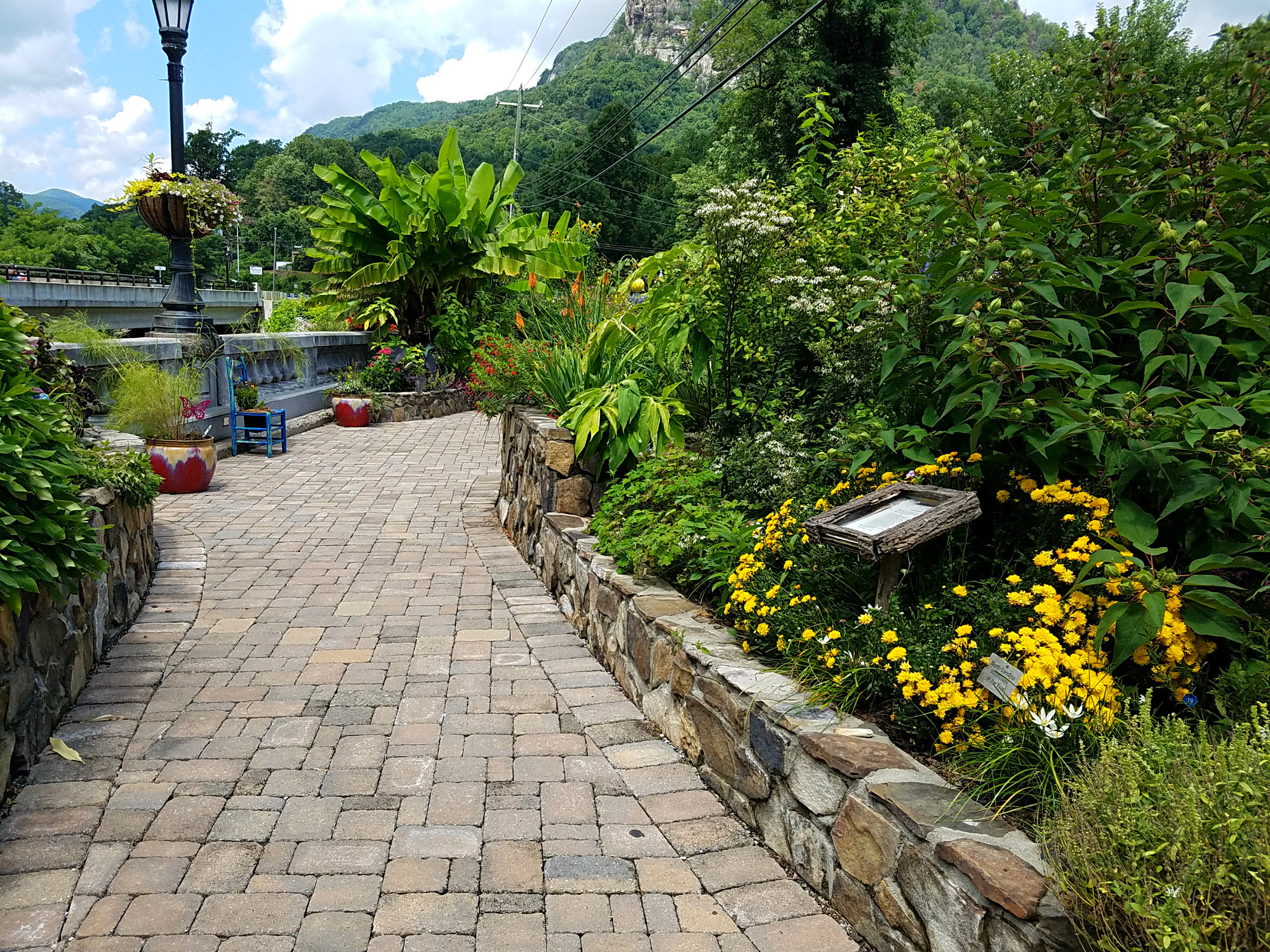 First, some background: The resort town of Lake Lure, next to Chimney Rock State Park and Chimney Rock Village, was established in the late 1920s. The idea of the town coincided with the creation of the lake through damming of the Rocky Broad River by the Carolina Mountain Power Company (owned by the Morse family, which once owned the land where Chimney Rock State Park and Lake Lure are located). The 720-acre Lake Lure has approximately 27 miles of shoreline and sits about 1,000 feet above sea level in the Hickory Nut Gorge area. The whole area is very picturesque with huge granite, tree covered rock formations rising up around the lake. You may recognize the area from movies like Dirty Dancing and Last of the Mohicans.
On the far west side of Lake Lure, a three-arch bridge spans 155 feet across the Rocky Broad River, between Chimney Rock State Park and the lake. The bridge was used for road traffic from 1925 to 2011, until a new bridge was constructed. At that point, the historic Rocky Broad River Bridge was closed to traffic and plans for a community garden began. Thanks to the efforts of the Friends of the Lake Lure Flowering Bridge group, as well as contributions by various businesses, organizations and individuals, the bridge was transformed into a beautiful garden and opened to the public in October of 2013.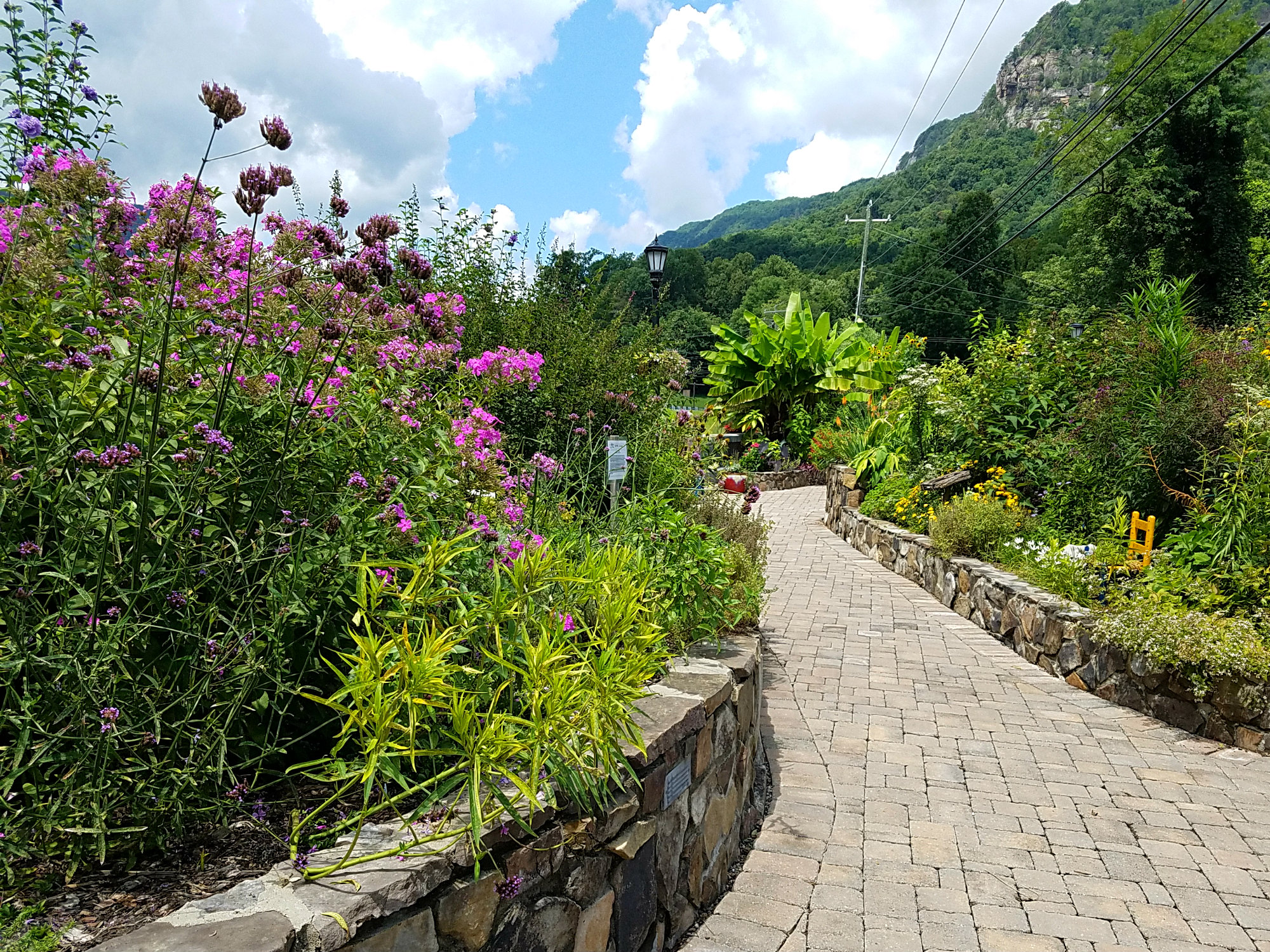 The Lake Lure Flowering Bridge now blooms beautifully over the entire 155-foot length of the bridge, as well as along pathways at each end near parking areas.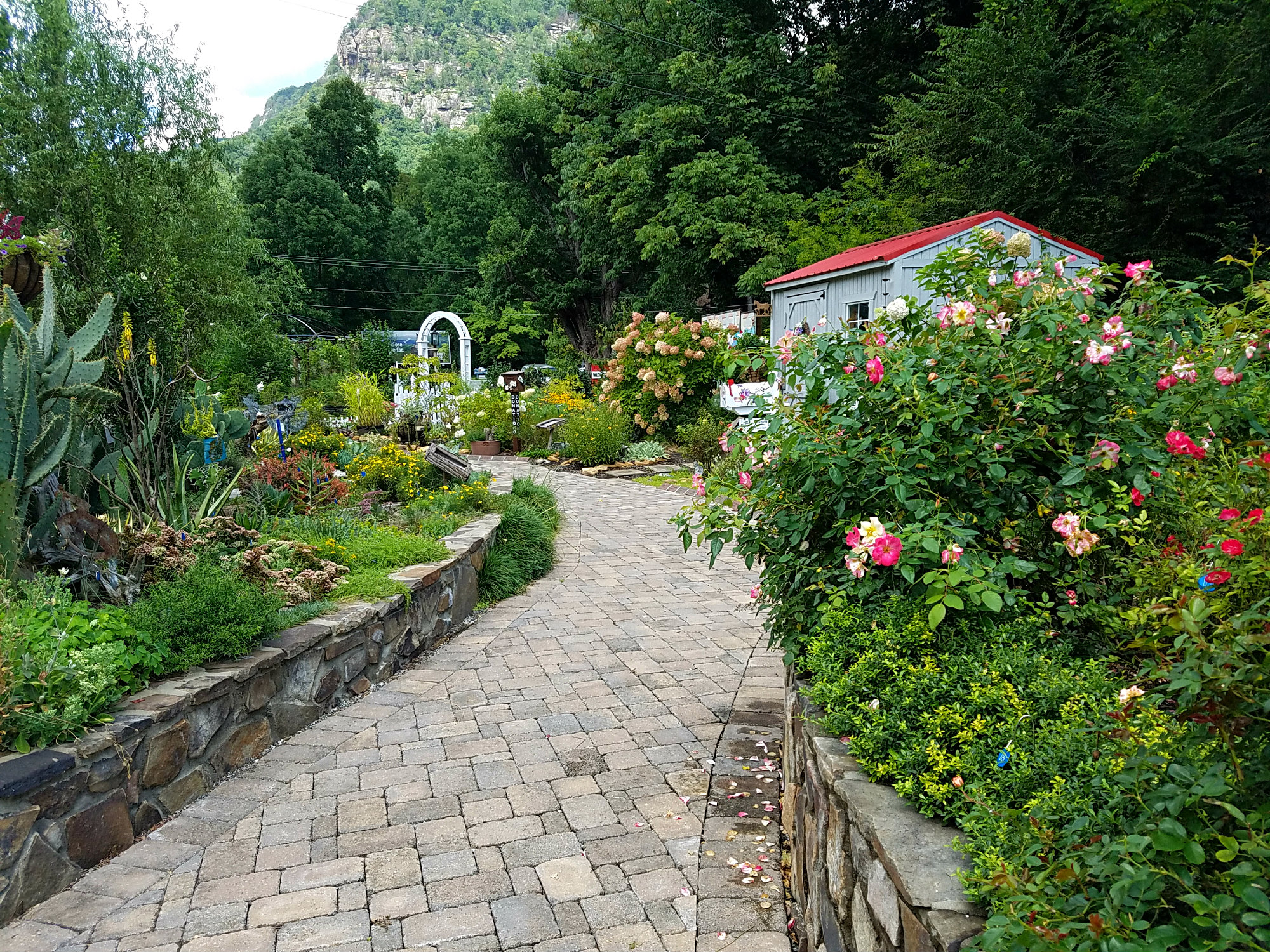 The bridge is 20 feet wide, allowing for a comfortable central pathway through the garden spaces, which are filled with raised beds of 12 well laid out subsections, including native plants, pollinator-friendly flowers, roses, herbs, succulents, interesting tropical ornamentals and annuals, as well as sculptures and whimsical garden art.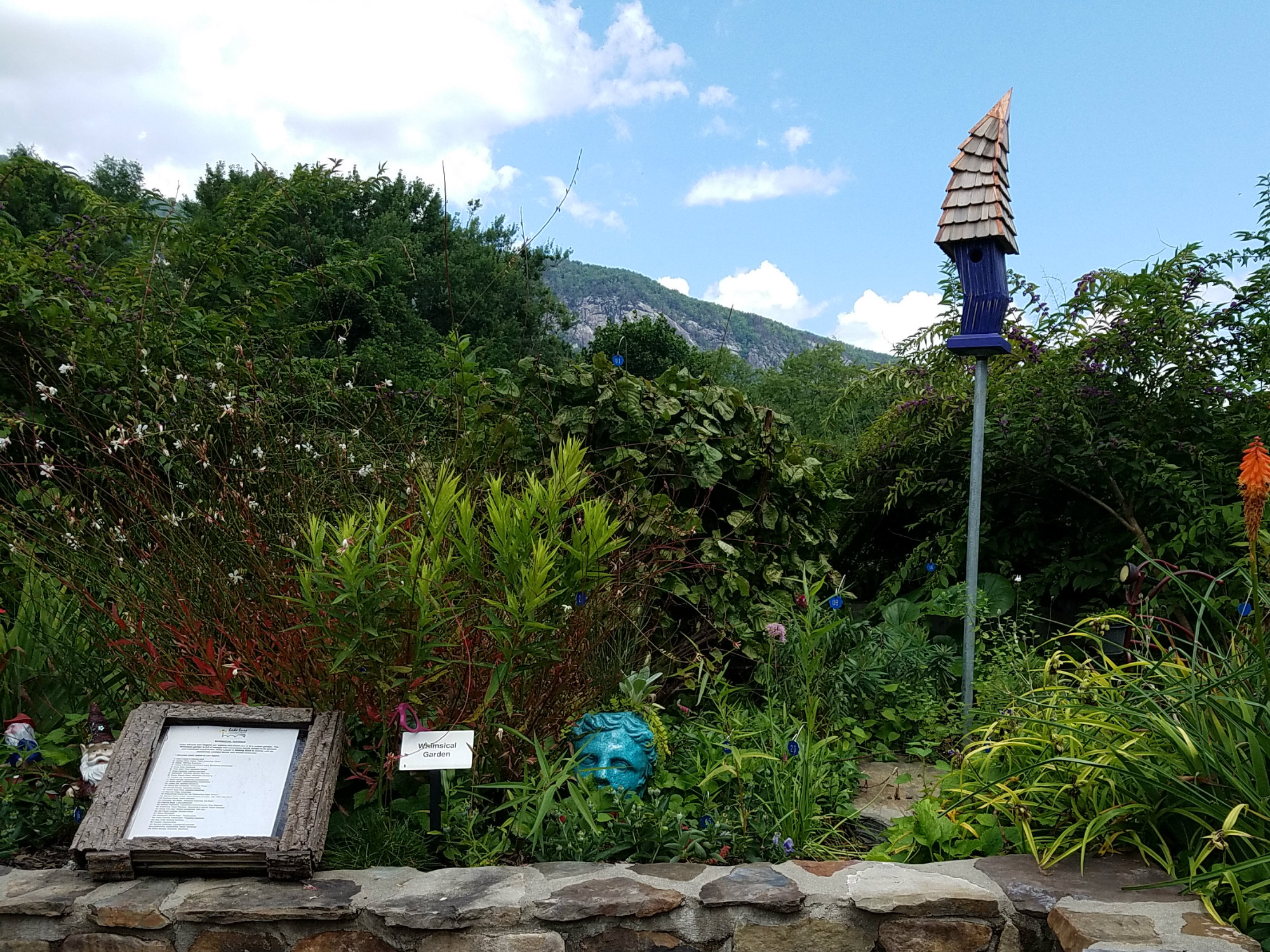 You can easily spend more than 30 minutes strolling the bridge and looking at all of the plantings and views of the gorge and river. There's even a cell phone tour available as you're walking.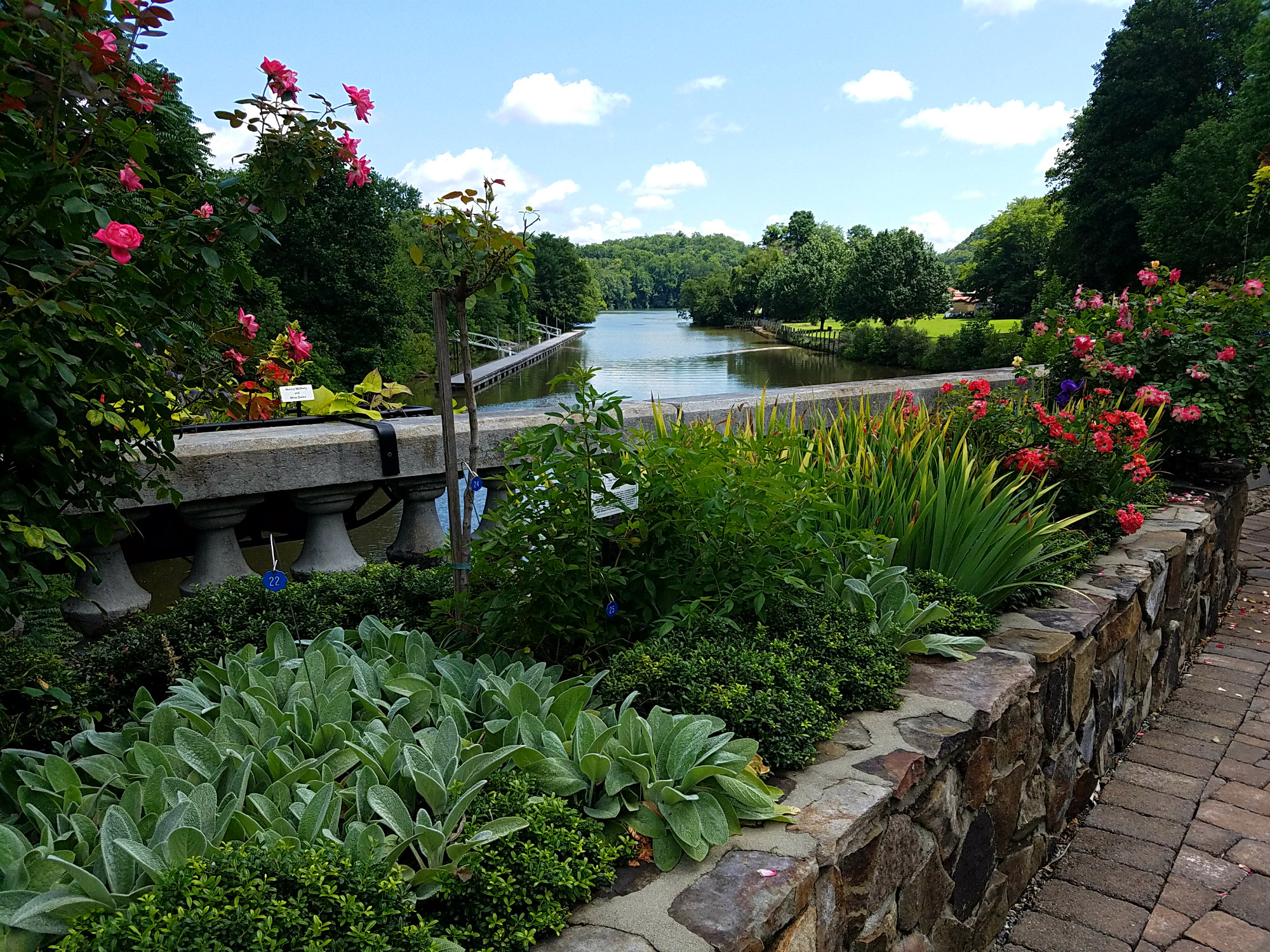 The Lake Lure Flowering Bridge is kept looking gorgeous by the Friends of the Lake Lure Flowering Bridge, an all-volunteer community group.
To get to the Lake Lure Flowering Bridge, which is about 40 minutes south of the Inn on Mill Creek, take I-40 Exit 64 (Route 9) south toward Chimney Rock. After about 17 miles, turn left to stay on Route 9, which then also becomes US Hwy 74. During the final six miles, you will go past Chimney Rock State Park and Chimney Rock Village, and the Flowering Bridge will be on your left.