We're headed s-l-o-w-l-y into the second week of the Fall season in terms of fall foliage, but there are definitely some hints of color here and there (thank you, sourwood trees). Let's see where to go daytripping to hunt for some early Fall color and which tree we're profiling this week!
Here in the immediate Asheville area (1,500 to 2,500 feet above sea level), we've had another warm week, and that means the vast majority of leaves are still green. We're encouraged by this forecast, though… look at the daytime highs starting October 5! Sweater weather, here we come, oh yeaaah.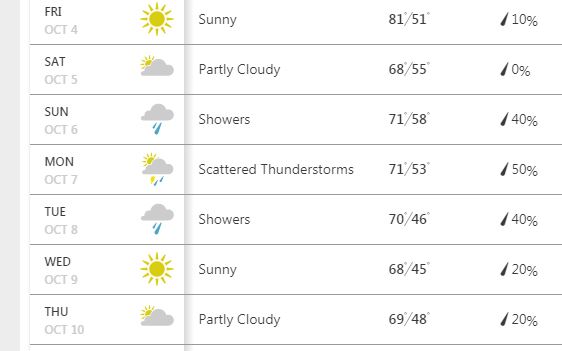 And even though summertime temps have been hanging around this past week, we're happy to report that dogwoods and sourwoods are starting to bring some color to the landscape, and Carolina Silverbell trees are starting to change as well. That tree stars in our tree segment a little later in the blog.
There are a few places at high elevations where Mother Nature is in the beginning stages of painting a Fall color portrait, and the beautiful Blue Ridge Parkway is part of the scenic journey:
Mitchell State Park – while this state park northeast of Asheville (accessible via Hwy 128 at Blue Ridge Parkway Milepost 355.4) boasts six of the ten highest peaks in the eastern United States, they are mostly covered with Fraser fir and spruce pine evergreen trees above 5,000 feet. However, the 360-degree observation platform at the highest peak, Mt. Mitchell, allows for viewing expansive vistas to see where the earliest color is happening below. There is also a restaurant and a system of hiking trails in the park. More about Mt. Mitchell State Park: https://www.romanticasheville.com/mtmitchell.htm

Graveyard Fields – a perennial favorite for fall color hunters who are in the area in early October, Graveyard Fields is a mile-high valley south of Asheville (parking at Blue Ridge Parkway Milepost 418.8). It's always one of the areas in western North Carolina to peak in early Fall. Swaths of blueberry bushes and other shrubs turn the "fields" into a sea of reds and golds, which, combined with changing leaves on the trees above, make for stellar views. There are also two waterfalls at Graveyard Fields. Prepare for crowds if you go on the weekend. More about Graveyard Fields: https://www.romanticasheville.com/graveyard.htm

Rough Ridge near Grandfather Mountain – early color can often be found in the vicinity of Grandfather Mountain northeast of Asheville, and this includes Rough Ridge, which can be accessed via a hiking trail from the parking area at Blue Ridge Parkway Milepost 302.8. https://www.romanticasheville.com/rough_ridge.htm
As we mentioned last week, we're profiling a different native tree in our fall color reports this year. In this week's installment of Seeing the Forest through the Trees, we showcase the Carolina Silverbell. This tree is in abundance along the road to the Inn on Mill Creek. You'll see it standing out in the forest crowd twice a year: in the springtime, when it has beautiful masses of bell-shaped flowers along the branches around April, and in early October, when the dainty 3- to 4-inch leaves turn a brilliant shade of yellow.
As one of the trees in the Asheville area that's first to change in the Fall, the Carolina Silverbell is a nice reminder that cool weather and a big color show are soon to come.
You still have time to plan your fun Fall getaway to the Asheville area! Check availability and make reservations at www.innonmillcreek.com.